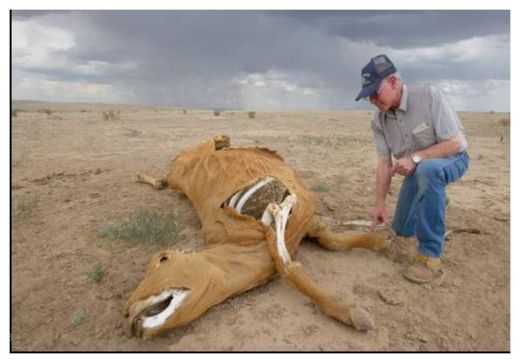 Trinidad - At first, rancher Tom Miller thought the savagery wrought on his cattle was a cruel joke.
Mutilated cows and calfs. Field-dressed and missing ears, organs and eyes. Carcasses devoid of blood.
A second-generation rancher, it wasn't until 1999 that Miller said he started looking at the animal deaths differently, not as the product of twisted mischief or the feeding scraps of predators.
"At first I thought it was a prank, but there were no tracks, no blood. It looks like the carcass is pealed off, and it happens overnight," Miller said.
"There are just so many things that happen that doesn't seem like it's human. I know people think you're crazy, but there are so many things people can't explain."
Since '99, six cows and calfs have been mutilated on Miller's ranch northeast of here. Two calfs were mutilated in May and the day after meeting with a Chieftain reporter and photographer this week, he found another mutilated cow on his property.
Miller thinks the seventh death happened in the last week.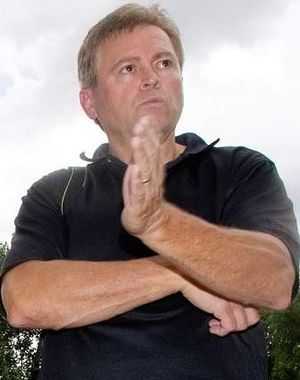 Chuck Zukowski has been investigating UFO sightings, paranormal cases and animal mutilations throughout the United States for 28 years.
A California native who lives in Colorado Springs where he makes his living designing microchips, Zukowski has investigated at least 24 mutilation cases in Trinidad and Southern Colorado.
In his cases, he's found little evidence to suggest human intervention or natural predators.
"You don't see any predator markings at all - bite marks, claw marks - and if you did it would be a clear giveaway," Zukowski, a former volunteer sheriff's deputy said.
"I don't see blood stains on the hides, which is ridiculous. Completely devoid of blood. Why would an animal carve and cut a perfectly round circle on one side of a head? Why would a scavenger do that? The lack of blood, unusual cuts, and there's no human evidence there - no foot prints, no tire marks."
Not everyone subscribes to the thought of extraterrestrial life. For some ranchers in the San Luis Valley they believe the deaths to be the work of the blood-thirsty "Chupacabra," a creature of Hispanic lore that preys on livestock.
Zukowski said some ranchers have seen black military helicopters hover over their cattle and later find a mutilated carcass.
Some may think Satanic cults are to blame, or such was the case in some of the earliest publicized mutilation cases in the '60s and '70s.
Whatever the thought or theory, mutilations continue to happen and the culprit(s) remain at large. And Zukowski, who volunteers his time to investigate, has linked commonalities that he says points to aliens.
"I believe, without a doubt, that there is life outside of the planet," he said, adding that the mutilators are "a highly intelligent predator."
"In the cases I investigate, there's no signs the animal struggled. In some cases, it looks like (the animal) was dropped there," said Zukowski, whose investigations can be
found on his website.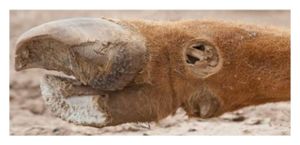 He's found animals inside a depressed ring and in one out-of-state case, found a mutilated animal inside a fresh crop circle.
Zukowski collects soil both inside and out of the rings and has the samples tested at Colorado State University-Fort Collins.
"I'm seeing some kind of nutrients being altered in the soil. The soil inside the depressions are less soluble than outside the ring."
In one of the May cases at Miller's ranch, Zukowski said he picked up high radiation readings around a carcass found beside a tree.
Above the carcass, Zukowski said, he found broken limbs in the tree, which leads him to think the animal was dropped from above.
"I had some unusual radiation readings in a field at Tom Miller's place, and you could see where branches were broken where the carcass was found," he said.
While some ranchers may be scared, Miller said he's not, only more concerned for his herd. Years of drought have taken a toll and, looking down at the remains of a mutilated calf, he says: "That could've been $800."
After staring at the carcass for a minute, Miller looked up: "There's just so many questions no one can answer."