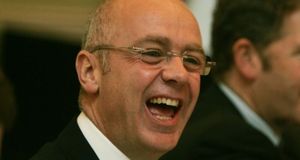 Tapes of David Drumm, just days before he lost his job as Anglo Irish Bank CEO, reveal the frenetic atmosphere in the bank.
For the first time, Anglo's own executives speak about how the Brian Cowen-led government ignored the advice of international bankers Merrill Lynch to shut down Anglo, in recordings exclusively revealed today in the
Irish Independent
.
The bankers even tell how their own institution is described as a "basket case" by the firm, which were the government's external advisers.
"They're knifing us," Drumm tells colleague John Bowe, before telling him how he had prepared a plan to burn bondholders.
Mr Drumm reveals a conversation he's apparently had with former Fine Gael leader and ex-finance minister Alan Dukes - the government-appointed member of the board of the bank, where the former politician allegedly reported that the Government had decided to keep the bank going. Mr Dukes was appointed as public-interest director at Anglo days beforehand.
The tapes put a new perspective on the political and banking situation before Mr Drumm was sacked and a number of months before Anglo was nationalised at a cost of €30bn. Up until now, it has never been known that Merrill Lynch went so far in urging the government to close Anglo.
Drumm explains his plans to burn his own bondholders, which he says would have saved the Irish taxpayer €9bn - but was never implemented.
Drumm insults government officials and consultants advising the government and also engages in an ill-tempered tirade against two prominent women in financial circles.
He frequently attacks Merrill Lynch.
"And, em, I think you could say that but you won't get anywhere with them - sounds like they've switched off us, they've signed a death warrant ... ," he said in a recorded conversation from December 15 - four days before his departure and six days before the State invested €1.5bn to buy most of Anglo.
Drumm's colleague, Mr Bowe, head of treasury, believes Royal Bank of Scotland is trying to "f**k us over."
"I spoke to them again and said: 'Look, if you're going to f**k us over, you need to tell us very clearly, because that's what'll happen if you are not careful'," he said.
RBS was not convinced that all of Anglo's debts were protected under the
guarantee, but Drumm appears unable to accept that this is the only issue.
The latest tapes come as the controversy over the Irish Independent's revelations continued to spiral on the inter- national stage.
Taoiseach Enda Kenny said he fully agreed with the harsh criticism from German Chancellor Angela Merkel about her "contempt" for the actions of the Anglo bankers.
Chancellor Merkel's condemnation of the bankers was covered by media across the world.
Drumm reveals new details about the advice given to the government about what to do with Anglo in late-2008.
Government-appointed director Mr Dukes told them about the government's advice from Merrill Lynch.
"And according to, em, Alan Dukes today, the government ignored Merrill's advice and didn't shut us.
"You know, they wanted us nationalised. 'Just take them off the field, they're a basket case.' And ignored the advice and said: 'No. We want, we want to see if we can get the banks through this'," Mr Drumm added.
Drumm was planning to burn bondholders as part of a desperate last-ditch plan to rescue the toxic bank, the latest Anglo Tapes investigation reveals.
He instructed Mr Bowe to get ready for a "bond buyback" - four days before he was forced to resign his position at the toxic bank.
He told Bowe: "We're ready to hit the road . . . get your ducks in a row."
David Drumm told Mr Bowe that he believed he had the backing of the Department of Finance and the financial regulator for the move.
Mr Kenny has called on former bankers and politicians to "stand by the Republic" by telling the truth to the banking inquiry.
He also said he fully agreed with Ms Merkel about her "contempt" for the actions of the Anglo bankers.
Toxic
In his most charged language yet, Mr Kenny again put the spotlight back on Fianna Fail who had recently called him a "political thug" for claiming there was an "axis of collusion" between Fianna Fail and Anglo Irish Bank.
At the conclusion of the Irish Presidency in Brussels, he called for a banking inquiry to look at the culture of the so-called Tiger years "which led to this situation of a toxic nexus between the banking world and the world of government and senior personnel.
"It is time for those privileged people who worked that system, who controlled that system, who were that system, to stand by our Republic," he added.