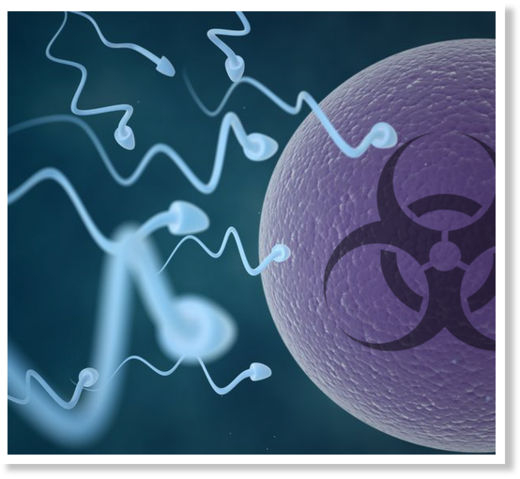 How much longer will we deny the growing body of research linking Roundup to infertility before calling this chemical a contraceptive?
Following closely on the heels of the
EPA's decision to allow Roundup
herbicide residues in your food at concentrations a
million times higher than shown carcinogenic
, a concerning new study published in the journal
Free Radical Medicine & Biology
implicates the herbicide, and its main ingredient glyphosate, in male infertility, at concentration ranges well within the EPA's "safe level" for food.[1]
Performed by Brazilian researchers, the study found acute Roundup exposure at low doses (36ppm, 0.036g/L) for 30 minutes induced cell death in Sertoli cells in prepubertal rat testis. Sertoli cells are known as "mother" or "nurse" cells within the testicles, as they are responsible for maintaining the health of sperm cells, and are required for normal male sexual development.
Roundup herbicide
exposure was found to induce oxidative stress and to activate multiple-stress response pathways within affected cells, and was associated with an increase in intracellular calcium (Ca2+) concentration leading to Ca2+ overload, and cell death.
Thirty minute incubation tests with glyphosate alone (36 ppm) also increased Ca2+ uptake, and both Roundup and glyphosate were observe to downregulate reduced glutathione levels. As glutathione is an antioxidant (electron donor) found within every cell in the human body, protecting it against oxidative stress, as well as maintaining a wide range of biochemical reactions such as DNA and protein synthesis and repair, amino acid transport, prostaglandin synthesis, amino acid and enzyme activation, a dysregulation of glutathione can result in a wide range of adverse effects.
The researchers noted "Glyphosate has been described as an endocrine disruptor affecting the male reproductive system; however, the molecular basis of its toxicity remains to be clarified. We could propose that Roundup® toxicity, implicating in Ca2+ overload, cell signaling misregulation, stress response of the endoplasmic reticulum and/or depleted antioxidant defenses could contribute to Sertoli cell disruption of spermatogenesis that could impact male fertility."
This study adds to a growing body of research implicating Roundup herbicide in male infertility:
A 2007 study published in the journal Reproductive Toxicology found that Roundup herbicide altered the structure of the testis and epididymal region (part of the tubular spermatic duct system), as well as the serum levels of testosterone and estradiol, in male ducks, leading the researchers to conclude that Roundup "...may cause disorder in the morphophysiology of the male genital system of animals."[2]
A 2010 male rat study published in the Archives of Toxicology revealed prepubertal exposure to commercial formulation of the herbicide glyphosate alters testosterone levels and testicular morphology, leading researchers to describe the herbicide as "a potent endocrine disruptor."[3]
A 2011 male rat study published in the Archives of Toxicology revealed maternal exposure to glyphosate disturbed the masculinization process and promoted behavioral changes and histological and endocrine problems in reproductive parameters.[4]
A 2011 study published in the journal Toxicology In Vitro found a glyphosate-based herbicide induced necrosis and apoptosis in mature rat testicular cells in vitro, and testosterone decrease at lower levels.[i] In the study, Roundup and glyphosate at concentrations as low as 1 part per million produced a testosterone decrease in sperm cells by 35%.
A more recent 2013 study in male rats published in the journal Ecotoxicology and Reproductive Safety found glyphosate (in combination with another pesticide) provoked severe oxidative stress in male testes, resulting in inhibited testosterone production and disrupted gonadotropin levels.[5]
Given the growing body of research clearly revealing Roundup's toxicity to the germline of animal species, the argument can be made that this chemical has contraceptive properties and therefore genocidal consequences. By directly affecting the biologically immortal cells within the testes, whose DNA contains over 3 billion years worth of information essential for there being a future for our species as a whole, Roundup should be considered an instrument of mass destruction. At the very least, the precautionary principle should be applied, and any chemical that signals the potential to disrupt or destroy our species' germline cells, should be banned unless the manufacturer can prove beyond a reasonable doubt its safety to exposed populations.
For additional research on the wide spectrum of adverse health effects now linked to glyphosate-based herbicide formulations such as Roundup, view our
research articles on GMOs
, as well as view and download our free biomedical PDF on glyphosate/Roundup research:
http://www.greenmedinfo.com/product/downloadable-document-glyphosate-formulations
.
Resources
[1] Vera Lúcia de Liz Oliveira Cavalli, Daiane Cattani, Carla Elise Heinz Rieg, Paula Pierozan, Leila Zanatta, Eduardo Benedetti Parisotto, Danilo Wilhelm Filho, Fátima Regina Mena Barreto Silva, Regina Pessoa-Pureur, Ariane Zamoner.
Roundup Disrupted Male Reproductive Functions By Triggering Calcium-Mediated Cell Death In Rat Testis And Sertoli Cells.
Free Radic Biol Med. 2013 Jun 29. Epub 2013 Jun 29. PMID:
23820267
[2] André G Oliveira, Luiz F Telles, Rex A Hess, Germán A B Mahecha, Cleida A Oliveira.
Effects of the herbicide Roundup on the epididymal region of drakes Anas platyrhynchos.
Reprod Toxicol. 2007 Feb;23(2):182-91. Epub 2006 Nov 11. PMID:
17166697
[3] R M Romano, M A Romano, M M Bernardi, P V Furtado, C A Oliveira.
Prepubertal exposure to commercial formulation of the herbicide glyphosate alters testosterone levels and testicular morphology.
Arch Toxicol. 2010 Apr;84(4):309-17. Epub 2009 Dec 12. PMID:
20012598
[4] Marco Aurelio Romano, Renata Marino Romano, Luciana Dalazen Santos, Patricia Wisniewski, Daniele Antonelo Campos, Paula Bargi de Souza, Priscila Viau, Maria Martha Bernardi, Maria Tereza Nunes, Claudio Alvarenga de Oliveira.
Glyphosate impairs male offspring reproductive development by disrupting gonadotropin expression.
Arch Toxicol
. 2011 Nov 26. Epub 2011 Nov 26.
[5] Mariana Astiz, Graciela E Hurtado de Catalfo, Marcela N García, Susana M Galletti, Ana L Errecalde, María J T de Alaniz, Carlos A Marra.
Pesticide-induced decrease in rat testicular steroidogenesis is differentially prevented by lipoate and tocopherol.
Ecotoxicol Environ Saf. 2013 May ;91:129-38. Epub 2013 Mar 7. PMID:
23465731
[i] Emilie Clair, Robin Mesnage, Carine Travert, Gilles-Éric Séralini.
A glyphosate-based herbicide induces necrosis and apoptosis in mature rat testicular cells in vitro, and testosterone decrease at lower levels.
Toxicol In Vitro. 2011 Dec 19. Epub 2011 Dec 19. PMID:
22200534