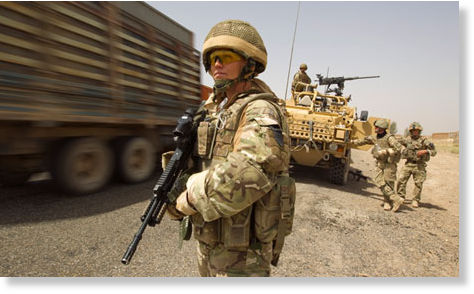 Senior military sources say Nato will continue to play major role as Afghan forces are unprepared for 2014 withdrawal
International forces will provide logistical advice to the Afghan military up until 2020 after concluding that Afghanistan's national security forces will be unprepared for full operations when Nato combat troops withdraw from the country at the end of 2014.
As David Cameron paid a visit to British troops in Helmand province on Armed Forces Day, senior military sources indicated that Nato would need to play a major role in Afghanistan until the end of the decade.
The prime minister said British forces were reaching the final phase of the 12-year campaign. But senior British military sources said the Afghan forces would need advice on providing close air support, the distribution of food and fuel and on medevac facilities.
British military commanders have been able to make their assessments after Nato handed control of security for the whole of the country to Afghan forces this month. The commanders have concluded that a great deal has been achieved but that Afghan forces will not have built their capacity to full operational levels by the time Nato combat troops leave at the end of 2014.
The military advice contrasts with the approach of Cameron, who aims to have a minimal British footprint in Afghanistan by 2015. Britain is to provide financial help and is to run an officer training academy near Kabul dubbed "Sandhurst in the sand".
The prime minister arrived in Afghanistan on Saturday after General Nick Carter, the deputy commander of Nato operations in Afghanistan,
told
the
Guardian
that opportunities to build a dialogue with the Taliban had been missed in the past decade. The US recently announced that it would hold talks with the Taliban, who have been allowed to open a political office in the Qatari capital, Doha.
Cameron indicated that he had some sympathy for Carter's view. He told Sky News in Lashkar Gah: "I think you can argue about whether the settlement we put in place after 2001 could have been better arranged. Of course you can make that argument. Since I became prime minister in 2010 I have been pushing all the time for a political process and that political process is now under way.
"But at the same time I know that you cannot bank on that, which is why we have built up the Afghan army, built up the Afghan police, supported the Afghan government so after our troops have left, and they will be leaving under the programme we have set out. This country shouldn't be a haven for terrorists."
The prime minister said it was right to talk to the Taliban and dubbed the Nato operation a success after it denied al-Qaida a base in Afghanistan. He said: "We want a political solution as well as making sure we have a security solution. What we have done in Afghanistan is we came here to stop it being used as a base for terrorist activities. That has been and is successful."
The US agreed to talk to the Taliban after dropping a series of conditions which had included an unequivocal renunciation of al-Qaida and an agreement to abide by the Afghan constitution. The Taliban simply said they agreed that Afghanistan should not be used as a base to attack other countries.
British diplomatic sources voiced strong support for the change of tack by the US. They even suggested that the Afghan constitution could be amended to take account of some of the Taliban's concerns.
One source said the constitution followed a winner-takes-all approach which concentrated strong powers in the hands of the president. This is not seen to be compatible with a process of reconciliation. But the other key Taliban demand - to give the constitution a more Islamic flavour - is regarded as unacceptable because diplomatic sources believe the constitution is sufficiently Islamic.
Any changes to the constitution would take place after the presidential election in April 2014. Hamid Karzai has to stand down as president after serving two terms.
The sources said Taliban prisoners would have to be released as part of negotiations. They would be free to play a role in the Afghan armed forces.
The prime minister announced during his visit that a wall at the main British army base at Camp Bastion, which commemorates soldiers who lost their lives in the conflict, is to be dismantled and rebuilt in Britain with funds from the Libor bank fines. The Bastion memorial wall at the National Arboretum in Staffordshire will be built with £300,000 from the £35m armed forces covenant (Libor) fund.
The prime minister said: "Britain must never forget those who gave their lives in Afghanistan. A Bastion memorial wall back at home deserves every penny of this funding. It will give us a permanent place to remember those who made the ultimate sacrifice in Afghanistan and to show how proud and thankful we are for all they gave serving our country. They must never be forgotten."
A senior No 10 source added that after 2014 the British presence in Afghanistan would be a matter for the country's national security council.