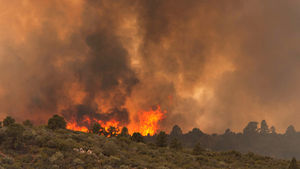 Yarnell - Local fire officials have confirmed that at least 18 firefighters have died while battling the Yarnell Hill Fire in central Arizona.
The Prescott Fire Department confirmed to MyFoxPhoenix that the firefighters,all part of a group called the Prescott Granite Mountain Hotshots, had passed away Sunday evening.
The Yavapai County Sheriff's Office has notified residents in the Peeples Valley area and in the town of Yarnell to evacuate.
Roxie Glover, spokeswoman at Wickenburg Community Hospital, told The Associated Press that the hospital has been told to expect residents with injuries and firefighters.
Earlier Sunday, the fast-moving fire prompted the evacuation of at least 50 homes in the Buckhorn, Model Creek and Double A Bar Ranch areas about 85 miles northwest of Phoenix.
The wildfire also forced the closure of about 15 miles of state Route 89, the Arizona Department of Transportation announced. The department did not have an estimate of how long the closure would last but advised drivers to use U.S. 93 or Interstate 17 as alternate routes.
Fire information officer Mike Reichling said earlier Sunday that no homes had been lost in the fire northwest of the Yavapai County community of Yarnell.
Early estimates put the number of evacuated homes at 120, but the number was downgraded by officials closer to the fire.
Reichling says the blaze was within a mile of some homes but was burning away from them.
The Yarnell Hill Fire prompted evacuations in the Model Creek, Buckhorn and Double A Bar Ranch areas about 85 miles northwest of Phoenix. The blaze also was within 200 yards of the Model Creek School.
Crews cleared brush and did other work around the evacuated homes to help guard against the fire.
On Sunday afternoon, the Yavapai County Sheriff's Office called residents in the Peeples Valley area and in the town of Yarnell, telling them to evacuate.
The wildfire started Friday and picked up momentum Sunday, covering 300 acres, as the area experienced high temperatures, low humidity and windy conditions.
Two hundred firefighters are now working at the fire, but an additional 130 firefighters and more water- and retardant-dropping helicopters and aircraft are on their way.
The Sheriff's Office said the Red Cross has opened a shelter at Yavapai College in Prescott.
In another Arizona fire, a 2-acre blaze that started at a motorcycle salvage yard and spread to a trailer park has destroyed five mobile homes in the Gila County community of Rye, located more than 130 miles east of Yarnell.
Gila County Health and Emergency Services Director Michael O'Driscoll said no one was injured in Rye.
The fire was ignited Saturday night at All Bikes Sales located off Highway 87. It spread to neighboring federal Forest Service land but was fully contained within 12 hours of its start.
The cause of the fire is under investigation.
The Red Cross says seven adults and two children were staying at a shelter set up for people who were evacuated.