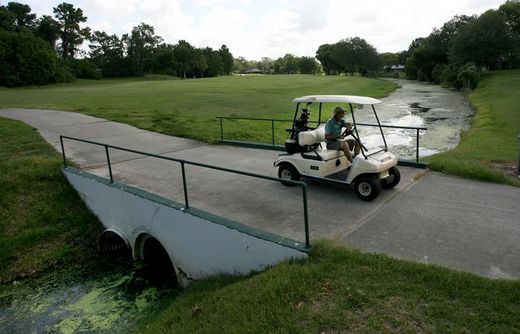 Bayonet Point - In the golf course community of Beacon Woods, a few residents are being driven indoors by a stubborn stench. A stretch of road near the 17th hole reeks of something like manure and rotting food, and nobody knows why.
Residents started complaining the day after Tropical Storm Andrea blew through two weeks ago, said Beacon Woods Civic Association president Ron Meiczinger.
Meiczinger said the smell is concentrated in the creek area right behind three houses on Charter Oak Way.
He could still get a whiff on the other side of the canal, he said, although the smell wasn't as strong there. Residents at two houses across part of the golf course reported the stench, too, he said.
The smell reminds him of pig manure - worse than horse manure, he said. But the suburban neighborhood doesn't include any farms.
No one knows what's causing the smell, but the residents of Charter Oak Way are making their guesses.
Carol Hendrickson thinks the weeds that clog Bear Creek are creating the odor. Her neighbor Dee Macartney thinks it's the water itself.
Tony Bateman has been talking to county workers and a neighbor, he said, but he hasn't heard any plausible explanations. Weeds in the creek have been constant in the 15 years he has lived there, he said. Underwater methane gas was another guess, but nobody has noticed dead fish floating in the creek.
Neighbors are worried about inhaling something bad.
Bateman said the stench was at its worst last weekend. In the afternoons, it festers in the Florida sun and becomes unbearable. He can't enjoy his backyard or pool area.
"It's oppressive," he said. "It's unreal."
Pasco County Public Works director Mike Garrett said the county is working on uncovering the source of the stench.
Utilities workers confirmed that it isn't a sewage issue. It might be a dead animal in the creek, but Garrett said workers found nothing when they searched for a carcass Thursday.
The next step will be more expensive - a water sampling test Garrett estimates will cost $5,000. Workers took about 10 samples of algae, duckweed and creek water Thursday, he said.
He hopes to have test results within a week.
Meiczinger said he is happy overall with the county's response, even though the answer is elusive.
In the meantime, Bateman said, residents will just have to "smell it up."