Moscow says evidence it has been shown 'does not look convincing', and cautions US against arming Syrian rebels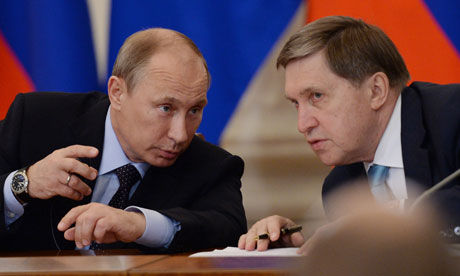 Russia has dismissed US assertions that Bashar al-Assad has used chemical weapons against his own people, and said any US move to arm Syrian rebels would jeopardise efforts to convene a peace conference.
Responding to White House moves to broaden its military support for the forces lined up against Assad's regime, the Kremlin said it was not convinced by the pretext for doing so.
Yuri Ushakov, foreign policy adviser to Vladimir Putin, said US officials had briefed Russia on the allegations against Assad. "But I will say frankly that what was presented to us by the Americans does not look convincing," he said.
"It would be hard even to call them facts."
The White House said late on Thursday that it would supply direct military aid to Syria's rebels after concluding that government forces had used chemical weapons, something Barack Obama has called a "red line".
David Cameron
told the Guardian
on Friday that Britain shared the Americans' "candid assessment".
In Damascus, Syrian officials denounced the US verdict as a "caravan of lies" and said
Washington's decision to arm the rebels was a "flagrant double standard" in its dealings with terrorism.
"The White House ...
relied on fabricated information in order to hold the Syrian government responsible for using these weapons, despite a series of statements that confirmed that terrorist groups in Syria have chemical weapons,
" the foreign ministry said.
Russia has consistently obstructed US-led attempts to bring sanctions against Assad's regime for the bloody conflict that has resulted in
almost 100,000 deaths
in Syria, and millions of people displaced. Officials say they do not support Assad and are merely against foreign intervention on principle, but Moscow has continued to supply arms and other aid to Assad as his last major ally alongside Iran.
The issue of arming the rebels has taken on extra urgency in recent days as pro-Assad forces are believed to be moving towards Aleppo, Syria's second city, for a possible showdown with rebel forces that could change the course of the two-year conflict. Heavy fighting was reported in Aleppo on Friday morning.
It remains unclear exactly what weaponry the Americans might supply. Senator John McCain, one of the strongest proponents of US military action in Syria, said he was told on Thursday that Obama had decided to "provide arms to the rebels". Officials told the Associated Pressthat details were being finalised but that the weapons might include small arms, ammunition, assault rifles and a variety of anti-tank weaponry such as shoulder-fired remote-propelled grenades and other missiles.
The CIA was expected to be tasked with teaching the rebels how to use the weapons, APreported.
The New York Times
gave a similar outline of the arms involved and said anti-aircraft munitions, hotly sought after by the rebels, were not under consideration. Syrian rebel groups have repeatedly called for both anti-aircraft and anti-tank missiles.
Analysts suggested that the US might step up the intelligence effort in Syria and possibly use groups of special forces to advise and train rebel groups rather than intervene overtly with military force.
There is deep concern in British military and intelligence circles about the prospect of direct US military intervention in Syria. Even establishing no-fly zones or "safe areas" would be extremely risky and lead to confrontation with Syrian forces, observers warned.
"There is no political appetite for it, in Washington or in London, and even Paris has gone quiet," said Brigadier Ben Barry, of the International Institute for Strategic Studies.
Russia has insisted on a diplomatic solution, but an international peace conference announced by John Kerry, the US secretary of state, and Sergei Lavrov, the Russian foreign minister, has been plagued by disagreements from the start, including over Russian demands that Iran attends the talks.
Ushakov said US pledges of military aid to the opposition would further complicate attempts to convene a conference. "If the Americans ... carry out more wide-scale aid to the rebels and opposition, it will not make organising the international conference easier," he said.
The Russian foreign ministry reiterated that position in a statement released on Friday, but said it remained committed to holding an international peace conference. It said US arms deliveries to the rebels would "drive up the level of violent confrontation and violence against innocent civilians".