Monique Gallegos was inside her Westminster home Thursday when a nearby explosion staggered her. Windows blew out, a ceiling fan was dislodged, crashing into the dining room, and a framed photo or art piece flew off the wall and smashed Gallegos in the back.
"I thought a plane had crashed, or it was a bomb, a terrorist," Gallegos recalled as she waited Thursday afternoon to get the OK to return to her home in the 9200 block of Ingalls Street.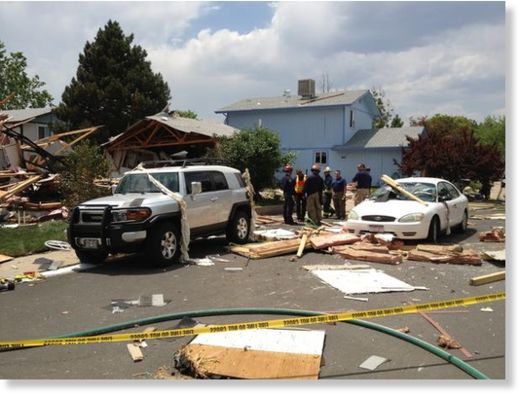 Gallegos quickly got her mother, Arleen Gallegos, 70, out of the house, and along with other neighbors, they watched, stunned, as debris, materials from homes - pieces of rooftop shingles, splintered siding, insulation - continued to land in the street.11:35 a.m. a home on the 9300 block of Ingalls Street exploded, reduced to a pile of rubble and making the cul-de-sac it occupied look like part of a war zone. A second home also sustained heavy damage and several surrounding homes, like Gallegos', were damaged, as well.
Westminster firefighter Courtney VanMarter was among the first on the scene. She encountered a house that had been leveled, with lots of debris and blown out windows. She described the scene as reminiscent of a tornado.
"Truly there is not a whole let left in this house," VanMarter said. "It's quite shocking."
Additional Images
Two people suffered minor injuries. VanMarter said one was a police officer who stepped on glass from all the debris, and the other was an Xcel worker out on an unrelated call who was checked out as a precaution.
Originally three people were reported as missing, but there were accounted for several hours later.
"The suspected cause of the explosion is a gas leak," said Diana Wilson, a Westminster Fire Department spokeswoman.
The fire department is working with Xcel Energy on investigating the cause.
Earlier in the morning, prior to the blast, Gallegos said she smelled gas, like "rotten eggs."
After explosions, other neighbors talked about it and several people also said they had smelled gas.
Between 50 and 75 firefighters and emergency responders worked the scene on Thursday..
A technical team will search and secure the debris in case those people were inside at the time of the explosion.
Right after the explosion, several blocks - West 92nd to West 96th Avenues and Wadsworth Boulevard to Pierce Street - were evacuated as a safety precaution. The order was quickly lifted once the gas lines were secured.
As Gallegos waited with neighbors to be let back into their homes she felt pain in her back, in a hip and down her leg, she said.
She thought back to the moment her quiet morning was turned around.
"I was scared."