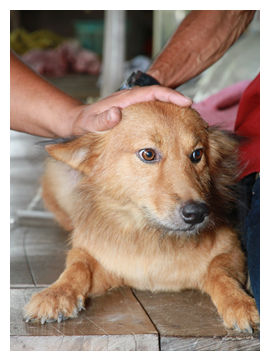 Ayutthaya - A pedigree Thai dog carried a plastic bag containing a newborn baby girl believed to have been left in a roadside dump back to its home on Monday morning, saving her from inevitable death.
Sudarat Thongmak said the two-year-old male, a
Bangkaew
named Pui, took the white plastic bag from a site in tambon Sala Loi in Tha Rua district to the house and barked loudly to get attention.
Sudarat, 12, heard the noise and was the first to see the baby.
After hearing the dog barking she went down the stairs and discovered the bag on the patio.
She opened it and was shocked to find a newborn baby with its umbilical cord still attached. It was clearly very weak and she ran to get her mum, Pummarat, and her father, Kummerd. The parents rushed the baby to Tha Rua hospital.
Mrs Pummarat said Pui always wanders around the community especially a wood grove near the house. She and her husband believe the dog found the bag there.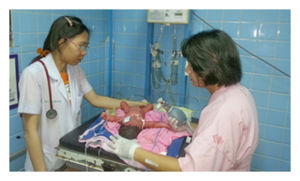 The baby was given oxygen and other treatment and is now in a stable condition. She weighed 2.2kg, hospital officials said. They believed she was born prematurely, at around seven-and-a-half months. She was later transferred to Phranakhon Sri Ayutthaya hospital.
District chief Withit Pinnikorn has asked village and tambon chiefs to find the baby's mother.
Pol Lt Col Sophon Boonluea of Tha Rua police station, launched a preliminary investigation in the community and workers in adjoining warehouses. But police have not found a woman suspected of being the mother of the baby, he added.
Mrs Pummarat contacted the district Red Cross office to indicate her intention to adopt the baby as Sudarat is her only child. The office will not make a decision until the girl is in a satisfactory condition and police complete a probe into the case.
Pui the dog received a leather collar and a certificate from the Red Cross office of the district as a token of appreciation for its clever behaviour.
Miracle of Life Foundation in the district also gave the dog owners 10,000 baht in cash to help feed Pui and three other dogs at the house.