Anglers and those who live along the Jamestown Reservoir are seriously concerned by what they are seeing wash up along the shore.
Hundreds of dead carp are appearing, and North Dakota Game and Fish biologists are stumped as to why.
Living on the east side of the reservoir, Jim Schmitt has seen his fair share of fish, but what he sees now is strange to him. "The darndest thing. They were so high on the water, and it looked like they were gasping for air," says Schmitt.
He has also been seeing dead ones floating near shore.
His concerns are the concerns of many who have been vocal to the Game and Fish Department. Fisheries Biologist BJ Kratz says he first started noticing signs of the fish kill as the ice came off, but then he started getting reports that the carp seemed sluggish.
"It's not typical for carp because carp are usually pretty active this time of year and are also easy to spook and reactive when people approach them," says Kratz.
The carcasses also continue to pile up.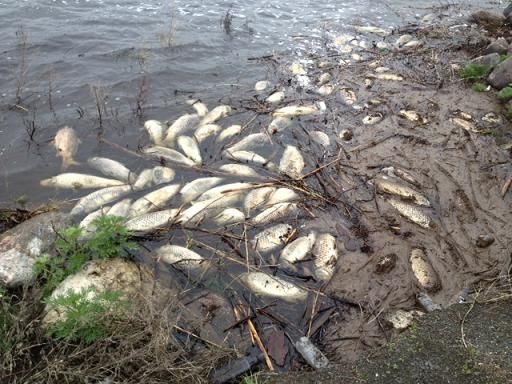 Kratz says, "At this point it looks, it's definitely in the hundreds, if not thousands."
Kratz says there is extra stress on the carp this time of year as they breed, making them more susceptible to disease. It is pertinent for biologists to figure out what disease.
"Anytime something like this happens our concern is with our game fish that we manage, and for, to make sure none of those would be affected."
A team came from Bismarck to take samples to send them to the Fish Health Center in Bozeman, Montana. Kratz says they could be looking at an Asian or European virus. He says, "It is rather uncommon to this region, and it hasn't been documented in North Dakota."
But that is all speculation. For now, the only thing that can be done is wait for the results. The results of the testing should be available by late next week.