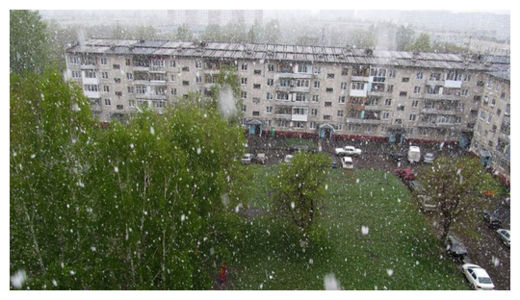 A layer of snow on the second day of summer has put the citizens of the Russian city of Kemerovo completely out of humor.
Meteorologists say the anomaly occurred because a cyclone brought cold Arctic air from Kara Sea region into Siberia dropping, temperature to lows typical for summer north of the Arctic Circle.
Bloggers were at a loss when commenting the issue.
"Snow in Kemerovo TODAY? That's hardcore. The weather must've forgot it's June."
"With a sense of terror has just learnt it's been snowing in Kemerovo. What's next?"
"Tornado in the US. Floods in Czech Republic. SNOW in Kemerovo!"
The city in South Siberia is situated on 55°22'17.58" north latitude but even for that region -2 Celsius on June 2 morning is over the top. The region has seasonal inland climate, which means really cold winters and very hot summers.
This spring has been sort of cold in the Kemerovo Region, which witnessed snow in early May and an emergency extension of the heating season. No wonder that people have been waiting for warm summer days just like for manna from heaven, but instead got snowflakes.
But the locals are full of determination to recalculate sowing season schedule and plant kitchen gardens as usual and against all odds, probably because over 70 percent of Russia's territory is the area of risk farming and people are used to encounter hardships of the kind.