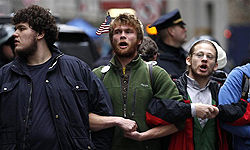 The entrance of the European Central Bank (ECB) was blocked by over 3,000 'Blockupy' protestors in a march against austerity.
Anti-capitalist protestors have taken to the streets the financial heart of Frankfurt a day ahead of Europe-wide gatherings planned for June 1 to protest leaders handling of the three-year euro debt crisis.
"We call up everyone to join our protests."
The crowd, estimated at 2,500 by local authorities, is clutching signs demanding 'humanity before profit'.
'Blockupy' has become a top-ten Twitter trend in Frankfurt, and at 10:09am (08:09 GMT), user Enough14 tweeted, "Strong Powerful blockade at Kaiserstr. Not one banker will come through here," in reference to the ECB headquarters, The
Guardian
reported.
The crowd was met by police decked out in riot gear accompanied by large German Shepherd dogs. Helicopters hover above and water cannon trucks are on standby.
Many of Frankfurt's banks have urged staff to take Friday as a holiday, following a state holiday on Thursday.
Spokesman Martin Sommer said Frankfurt's financial district could be occupied by as many as 20,000 who believe the Troika - the ECB, the European Commission and the International Monetary Fund - is imposing an "austerity dictate" on financially troubled countries they have bailed out.
Cyprus, Greece, Portugal, Ireland, have received bailout loans and Spain has received loans for its banks.
Blockupy spokeswoman Frauke Distelrath said the protest was not aimed at bank employees, but at its role "as an important participant in the policies that are impoverishing people in Europe, in the cutbacks that are costing people their ability to make a living".