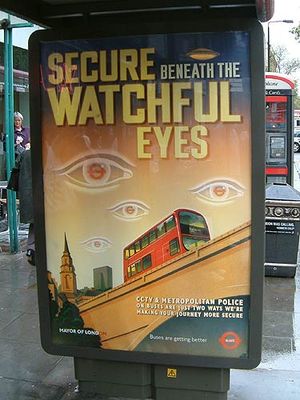 Comment:
The following UK
Independent
article reveals the true reason for the Woolwich 'terror attack' and subsequent moves to increase 'the watchful eyes' of the British police state. The British government was quick to cast the south London knifing (by people MI5 tried to recruit as informants and whose families have stated were
manipulated for years
by the security services) as a 'terrorist attack', recalling the entire cabinet for an emergency meeting to discuss reviving legislation that had previously been shelved because the Liberal Democrats leader and Deputy Prime Minister Nick Clegg
resisted
this Orwellian move. The
Communications Data Bill
requires Internet service providers and mobile phone companies to maintain records of everyone's internet browsing activity (including social media), email correspondence, voice calls, internet gaming, you name it. Although the draconian law is now couched in terms of clamping down on 'extremist Islamic websites', it's clear that its real goal is to monitor online chatter, gauge the general mood, then insert sockpuppets to 'win hearts and minds' and dampen the potential for mass protest movements overthrowing their despotic rule.
The "would-be terrorists" are YOU.
Experts are trying to pre-empt terrorism by bombarding jihadist websites with alternative messages
The major battle in
the war against extremism is being fought over the internet by elite teams stationed behind keyboards and engaged in winning the hearts and minds
of would-be terrorists.
It is a sign of the increasing understanding that small-scale, unsophisticated attacks such as the one in Woolwich are a growing threat:
the Government, police and other agencies are involved in a propaganda war to counter extremism.
An
Independent on Sunday
investigation has revealed that more than 2,000 websites promoting terrorism have been taken offline since 2010 by the Metropolitan Police's counter-terrorism internet referral unit. Experts are now bombarding extremist websites to create "counter-narrative" messages from survivors of terrorism. Former radicals also infiltrate forums to spread doubt and challenge the extremist rhetoric.
Comment:
Make no mistake about it: the "extremist websites" being referred to here are not the jihadist limited hangouts
run by SITE Intelligence
and other private intel contractors on behalf of Western intel agencies.
Last night, Rob Wainwright, director of Europol, Europe's crime intelligence agency, described the threat as a "rising concern", with an estimated 8,000 websites "serving terrorists and their supporters".
The Home Office, which has a unit that specialises in detecting patterns among social media, is focusing on countering extremist rhetoric online before any would-be attacker is radicalised.

Comment: Recall that both Tsaernev brothers voiced doubts about the official account of 9/11... their 'radicalization' was done by the FBI and friends, who harassed them and apparently manipulated them into the role of patsies at the Boston Bombings.


Experts say a group of jihadist internet forums is at the heart of a virtual army of extremists. An estimated 25,000 people from more than 100 countries belong to web forums, research has shown. "Jihadist cyberspace has become a breeding ground for new individual jihadists and jihadist networks," said a 2012 report by the Dutch security service AIVD.
Increased internet use in countries such as Afghanistan, Pakistan, Somalia and Yemen has resulted in an influx of extremists keen to spread their ideology, it says. A number of plots against Western targets have had a "prominent virtual component" and online propaganda is inspiring a growing number of people to take violent action, warns Dutch intelligence.
There are "rising concerns" about the way terrorists are using the internet, warned Rob Wainwright, director of Europol.
"What we have noticed in the last few years is more and more activists in Europe using the internet," he said. "We are pretty convinced that this form of incitement and radicalisation online is a major element in contributing to terrorist planning and activity."
Jeff Bardin, chief intelligence officer for the security consultancy Treadstone 71, said jihadist websites use the internet to recruit, indoctrinate and contribute to radicalisation, with an explosion of sites on Facebook, Twitter, YouTube and Pastebin. Internet relay chat is popular for immediate communication of messages.

Comment: ...and yet, in every single case so far, the 'jihadists' in question - the Woolwich Butchers, Merah the Magician, the Boston Bombers, the Underwear Bomber, the Shoe Bomber, the Miami Seven, etc, etc - were ALL recruited, handled and radicalized by the state's intelligence agencies.


The internet is "the perfect communications platform for the enemies of Western societies", he says. "The number of sites has grown to tens of thousands with new sites, pages, accounts and personae popping up hourly."

Comment: Read another way: The internet is the perfect communications platform for the alternative media to point out the lies and obfuscations of the PTB and main stream media.


Those responsible for extremist websites are increasingly aware that they are being monitored by security services and are turning to social media, says Robin Simcox, an analyst on terrorism at the think-tank the Henry Jackson Society. The changing climate would make crude attacks akin to the one in Woolwich likely to increase as organisations become more desperate.
"I think these attacks take place out of necessity rather than choice. It is a sign of weakness rather than strength, because it is now all they can do," he says. "A huge attack by an underground cell across many countries is almost impossible. They are telling people: 'Use what you can'. It is their last option."
The effect of smaller attacks could still be massive. "Woolwich has had a crippling effect on politicians and its impact isn't so different to 7/7 in the way it has shaken our thinking," he adds.

Comment: Politicians (in the West anyway) aren't "crippled" by terror attacks. They're psychopaths; they don't feel anything! No, the idea is to 'shake and quake' the normal population and prevent any cohesive non-violent mass movement from overthrowing the utterly corrupt ruling classes of Western civilization.


A second group fighting to combat extremist propaganda, the Institute for Strategic Dialogue, implants messages of peace when people try to access radical websites. Ross Frenett, programme manager for the Against Violent Extremism (AVE) network, says the hope is to make potential extremists refrain from meeting radicalising influences in the real world. "We use survivors of terrorism and formers [those formerly radicalised]. People who have been personally touched by the violence are very difficult to dismiss: those who have lost a loved one or a limb. And someone who has been on the inside and come out the other side is very credible," he said.

Comment: How sick do you have to be to blow someone's legs off then use him to terrorize others into remaining apolitical?


AVE is privately funded, with Google paying for about 50 per cent, but the group is talking to the EU and other foundations about funding, Mr Frenett says. It uses algorithms and search engine optimisation to ensure that when certain terms are searched for, counter-narrative messages appear in the search and adverts.
"Formers" will openly go on forums to challenge opinions directly, while others will be more subtle, creating a profile and posting suggestive remarks that, it is hoped, will raise questions and sow seeds of doubt.
Mr Frenett also says he and other groups are looking at ways of hacking a site with positive messages, though the viability legally and technically is an issue being debated.
Met keeps watch on social media
Scotland Yard has a specialised social media unit working around the clock in the wake of soldier Lee Rigby's killing in Woolwich.
A surveillance team of 17 staff use a "listening tool" to gauge sentiment, and software to pinpoint geographical "hotspots" where certain activity is taking place, based on keywords.
The information produces a briefing for officers to act on.
Umut Ertogral, who runs the Met's Open-Source Intelligence Unit, told an information security conference last week that the
unit was also exploring [online] association to establish influencers,

particularly for protest movements.

"We're trying to build friend lists on Facebook, who's connected to whom, who are the influencers out there etc," he said.

Comment: "particularly for protest movements..."

Bingo! Right there, they reveal their hand: the target is not "Islamic extremists", the target is anyone critical of the government.


Mr Ertogral added it was likely the task would get more difficult in the future as more social media "noise" emerged, but said the unit had been mobilised around other major events such as the G20 conference, London student riots and the 2012 Olympics.
Mr Ertogral told the annual AusCERT conference in Brisbane: "Companies will tell you that sentiment analysis from a piece of software is about 56 per cent accurate ... we would say it's lower [as] it doesn't pick up humour or slang .... What is junk or what is not is going to be very difficult for us to distinguish, so we're looking at user-specific targeting. We're looking at tribes as well; people surrounding themselves with like-minded people."
He added that "geo-tagging" would become more prevalent and said only about 1.6 per cent of people had geo-location services switched on their phone at any one time. "That can go up to around 13 per cent in a protest environment," he said.