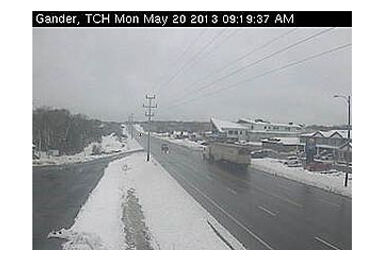 A record-smashing snowstorm has buried parts of Newfoundland under about 2 feet of snow.
There were no reports of serious damage or disruption.
Gander tallied a heavy, wet snowfall of 69 cm (7 inches) between Saturday morning and Sunday night, weather data accessed by AccuWeather.com showed. Of this amount, 46 cm fell (18 inches) within only 12 hours on Sunday. The snow depth reached at least 55 cm (22 inches) on Sunday and still stood at 51 cm on Monday morning.
The snowfall had a water equivalent of about 69 mm (2.7 inches), which amounts to the lion's share of the normal May precipitation of 86 mm.
Normal snowfall for the month of May is 13 cm (5 inches), according to Environment Canada (EC). The highest snowfall for all of May was 49 cm, set in 1972, said the EC's Jody Boyd, as quoted on the CBC News website.
An Atlantic storm, tapping cold air off the Labrador Sea, was the trigger for the freakish snowfall.
The heavy falls of snow were apparently restricted to parts of central and eastern Newfoundland, mostly above about 100 meters (330 feet) of elevation. In the provincial capital, St. John's, the storm brought only cold, windswept rain and drizzle.