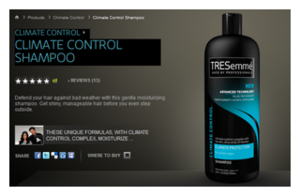 We always talk about and are lectured to about how "weather is not climate". Of course that's a flexible meme, because now when the weather turns hot or bad, climate is to blame.
I had to go to Walmart today to pick up something, and as I walked down the aisles looking for things, this jumped out at me. Unfortunately, it was so ridiculous, it made me laugh out loud, and I got stares. So, I'm sharing this humor with you.
I suppose it was only a matter of time before some enterprising company did this.
Gotta love that "defend your hair against bad weather" line. Now even when CO2 or
weather modification driven hordes of tornadoes
descend upon us in retaliation for our climate sins, we can avoid bad hair days.
Of course, shampoo only goes so far. They need "climate control body spray" to really be effective.