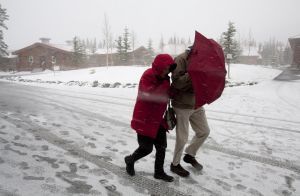 Christmas music played Friday in the lobby of the McKinley Chalet Resort, just outside Denali National Park and Preserve.
It was fitting, considering the weather outside.
A heavy spring snowstorm dumped enough snow in the area to cancel some local events, keep people from driving and surprise a few tourists.
A winter storm watch remained in effect until this morning.
"The guests are actually enjoying the experience," said Craig Pester, district manager of Aramark's Denali resorts. "We had to change a couple tours around so they didn't get the full experience, but all the guests are very happy. They're kind of making it part of their adventure."
Indeed, the Elliotts who are visiting from South Carolina thought the snow was pretty exciting, as they huddled behind an umbrella. What an Alaska experience, they said.
A visitor from Germany came north for better weather and ended up camping in the snow at Riley Creek Campground. He took it all in stride.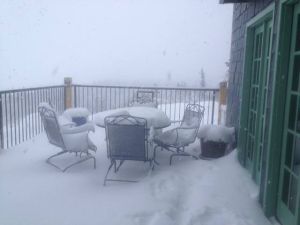 The grumpiest people here at Denali seemed to be Alaskans, who are tired of winter.
"I love winter," said Kris Fister, a year-round resident. "But really."
The snowstorm is proving to be challenging for local businesses and Denali National Park, which was supposed to open for the season Saturday.
Flightseeing is not available.
The rivers are still frozen
, so there is no whitewater rafting. Across the street, on the boardwalk, shops that need water - like Glacier Scoops Ice Cream, Subway and Black Bear Coffee - remain closed.
"I told the high school kids today we'll open sometime between now and July 1," ice cream shop owner Donna Cook said. Realistically, she hopes to open by Monday.
No one will know until early today if the park road will remain open.
"Maintenance employees are getting up at 4:30 a.m. (to remove snow)," Pester said.
"It's incredible," he said. "Eight seasons and I've never seen this much snow."
The National Weather Service warned in a Friday afternoon storm update that close to a foot of snow could fall in the Denali park area overnight
and that 2 to 4 inches of snow could fall at higher elevations in the Fairbanks region by this morning.
Heavy snow was falling Friday evening in Denali park, with visibility reduced to about one half mile and snow accumulation of 3 to 8 inches expected overnight, according to the weather service. The heaviest snowfall was expected east of Toklat. An additional 1 to 3 inches was expected in the Denali area this morning.
Higher elevations in the Fairbanks area were forecast to see up to 6 inches from Friday afternoon through this morning, while lower elevations would see much less, about 1 to 2 inches, according to the weather service.
The late-season snow storm also is expected to deliver a punch to the eastern Interior. Even heavier snowfall was expected west of Tok, with blowing snow severely reducing visibility and 4 to 8 inches of snow expected through the night and an additional 2 to 6 inches expected today.
In Denali National Park, water lines are frozen
, so there was no water or operational toilets Friday at the Denali Visitor Center or the Wilderness Access Center. Tour buses depart from the wilderness center.
Portable toilets were stationed at each site.
The Denali Visitor Center and the Alaska Geographic Bookstore were both open. The Morino Grill was expected to open today.
"What is not happening is campgrounds opening," said Kris Fister, park information officer.
Both Savage and Teklanika campgrounds are closed because they are snow-covered. People who have a reservation for this weekend and show up will be accommodated at Riley Creek campground in the entrance area. Meanwhile, no more reservations will be accepted for those campgrounds until the end of the month.
The seven camping sites in Sanctuary and Igloo campgrounds also will open eventually, but backpackers will be advised to prepare for winter camping.
That is, if they can get there.
That all depends on whether the road remains open.
Tours went into the park Friday. The wilderness tour went 30 miles to Teklanika and the natural history tour went to Primrose, as usual. Snowfall will determine whether the road will remain open.
"We're taking it day by day," said Dominic Canale, of Aramark, which runs the tours. "We're in direct communication with the park service and getting road updates. Tomorrow, we'll make the call first thing in the morning."
Meanwhile, park road crews made it to 90 Mile or 91 Mile plowing the one road into Denali National Park. On Friday, Fister said they pulled all the heavy equipment back to Toklat and will wait to see whether they need to plow going east to the entrance area, instead of west to Kantishna.
By mid-evening Friday, snow continued falling heavily and the state Department of Transportation prepared to plow the main Parks Highway.
"We usually switch over from winter to summer, but we haven't made that switch yet," said Meadow Bailey, spokeswoman for DOT's northern region office. "We had been planning to start doing potholes this week."
That was not happening.
Instead, crews were working to clear the Denali Highway. Bailey said they continue clearing that highway - "again and again."
The 135-mile mostly gravel road that links Cantwell on the Parks Highway and Paxson on the Richardson Highway usually is open by the middle of May, but the unusual spring weather has delayed the opening, according to the Alaska Department of Transportation.
DOT crews start working on the highway in April, but this year have been busy clearing snow on the Glenn, Parks and Richardson highways. Areas of the Denali Highway that have been plowed have had to be re-plowed because of snowdrifts.
The Department of Transportation will update travelers when the road is open. Drivers should use extra caution and visit 511.alaska.gov or call 511 for the latest road conditions before traveling.
Meanwhile, a report Friday evening on the Facebook page of the Lodge at Black Rapids, located on the Richardson Highway south of Delta Junction at 227 Mile, indicated snow already was piling up.
"We have two feet of snow! We had to plow and are still looking for the barbecue! Our first international guests will arrive tomorrow and won't they be surprised," it reads. "We have a Canadian helicopter crew downed by the weather but quite happy to be tucked in the lodge on a day like this."
At Denali, a visitor asked a local, "What is going on with this weather?"
"There's a winter storm watch until 6 a.m. tomorrow," she replied.
The visitor sighed and replied, "So the snow will stop at 6 a.m.?"