Three wildlife conservationists have noticed increases in the amount of dead and sick birds found on local beaches.
While scouting the beach for sea turtle nests, Wrightsville Beach Sea Turtle Project coordinator Nancy Fahey noticed several dead birds along the beach strand.
These reports appear to be part of a
larger trend of an increase of dead and sick birds along the North Carolina coast.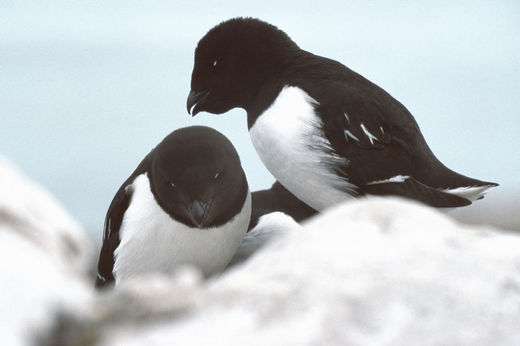 On May 1, Fahey reported 13 dead dovekies, three dead common loons and one dead green heron found along the Wrightsville Beach strand to the Wildlife Health Event Reporter website, www.whmn.org/wher
"I have found more dead birds during these two weeks of monitoring than I've ever noticed on Wrightsville Beach," Fahey said. "And I think primarily those little dovekies added to that number or that observation, because it is a rare event for them to be down here."
Typically dovekies are found in the North Atlantic Ocean.
Fahey also found three live common loons from May 3 to May 9.
"I've never found three live loons in a two-week timeframe before, ever," said Fahey, who has been a WBSTP volunteer since 1995 and coordinator since 2004.
WBSTP volunteers are aware of Fahey's findings and what to watch out for when they scout the beach from mid-May through the end of August.
The sick birds Fahey found were transported to the SkyWatch Bird Rescue facility in Wilmington, where birds are rehabilitated.
"I definitely have noticed an increase in dead birds, not just Wrightsville Beach, all of the beaches locally, especially loons," said SkyWatch director Amelia Mason."We've received a lot more loons than usual And of course, until recently when the weather was cooler, we received all of those dovekies. Almost daily dovekies were coming in. ... I usually receive one or two dovekies a year, which is pretty normal. But this past year I've received nearly 30, so definitely a huge increase than the last five years I would say."
Lindsay Addison, Audubon North Carolina coastal biologist, said specimens from the local beaches have been collected and sent to the North Carolina Wildlife Resources Commission and the United States Fish and Wildlife Service for testing to determine why there seems to be an increase in birds washing up dead or sick.
"Since there is no monitoring of Wrightsville Beach for dead birds, there's no way to say if there's been an increase or not," Addison said. "People have been noticing more dead birds here and elsewhere around the state, so that's likely true, but to say that there is an increase is not possible with the fact that there's no monitoring. ...
The dovekies were an interesting phenomenon, because they do not usually wash up on the beach. So probably, they, like the razorbills, which we saw in extra large numbers this winter, probably had to do with a lack of food in their normal wintering ground, and they came down here and why they were not doing well, why they washed up is not yet known
."
The dovekies that were transported to the SkyWatch facility weighed about one-quarter of their normal weight, Mason said.
Many of the dovekies had organ failure, because they had been
starved and dehydrated for a long period of time.
"All we can do for them really is supportive care and keep them comfortable," Mason said. "Some do really well. Some die the first night after intake, but really most of them die. We have not released one yet."
In 2012, Mason said the facility received about 600 birds. So far this year, the facility has already received about 200 with summer months being the busiest months.
Currently, about 45 baby songbirds and 25 adult birds are being rehabilitated in the facility.
The N.C. Wildlife Resources Commission did not respond for comment before press time.
Finding an injured bird
No North Carolina or local agencies rehab birds, so citizens can transport sick birds to a rehabilitation facility, such as SkyWatch Bird Rescue in Wilmington.
"Members of the general public are not allowed to possess the birds, except as they need to in order to transport them to a rehabber," Addison said. "But people should exercise caution if they want to try to help one of these birds that washes up. Make sure that you keep your eyes away from the bill. Simply tossing a towel or blanket over the bird, wrapping it up in that and dropping it off to SkyWatch is the best thing you can do for a bird that you find that's alive."
For more information, visit www.skywatchbirdrescue.com
Bird rehab, disposal process
Once the birds are transported to the rehabilitation facility, they are tube-fed, hydrated and given supportive care by two to three volunteers from 6:30 a.m. to 9 p.m. Many of the birds die, because their organs are already shutting down before they reach the rehab facility, said Amelia Mason, SkyWatch director.
"There's a couple of things you can do with dead birds," she said. "You can bury them. You can incinerate them. A lot of times I'll give them to the vet to add into their load of carcasses that they have removed by service. Legally, you can dispose of them in the trash. But I don't like to do that. I prefer to bury them."
Sometimes the birds are also shipped off for research by request.
Finding a dead bird
Dead bird sightings can be reported to the Wildlife Health Event Reporter website, www.whmn.org/wher. WHER is a component of the Wildlife Health Monitoring Network. The reports include the location, date and some images of the findings.
Lindsay Addison, Audubon North Carolina coastal biologist, said typically the bird carcasses decompose. She said there is no need for the public to pick up the dead birds as they are not particularly sanitary. It is also illegal for members of the public to possess parts of dead birds.