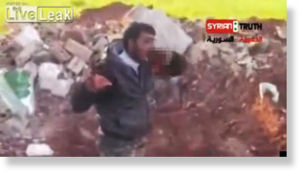 Observers says the video shows Abu Sakkar - the prominent founder of rebel group Farouq Brigade - as opposition figures and Assad supporters condemn footage
A chilling video showing a Syrian rebel commander cutting open a dead man's chest, ripping out his heart and biting into it drew widespread condemnation today.
A blurred and cut version of the video was widely circulated online, but New York-based Human Rights Watch said a longer clip in its possession contained sectarian slurs against Alawites, the sect to which President Bashar al-Assad belongs.
Khalid al Hamad (who goes by the nom de guerre Abu Sakkar), a rebel commander with the Homs-based Farouk Brigades, claimed responsibility for the act in an interview with Time.
"Hopefully we will slaughter all of them [Alawites]," he said. "I have another video clip that I will send to them. In the clip I am sawing another Shabiha [pro-government militiaman] with a saw."
The act of mutilation is a brutal example of the sectarian revenge killings becoming increasingly common in the two-year conflict, and will further complicate Western efforts to provide more substantial backing to the disparate groups of the Free Syrian Army.
Foreign Office minister Alistair Burt condemned the "barbarous act" shown in the video, adding: "This is not Syria's future."
The Syrian National Coalition condemned the act as "horrific" and said it would investigate and bring the perpetrator to justice.
"One important way to stop Syria's daily horrors, from beheadings to mutilations to executions, is to strip all sides from their sense of impunity," said Nadim Houry, Middle East deputy director at Human Rights Watch. He called on members of the UN Security Council to support the referral of war crimes on both sides to the International Criminal Court.
The emergence of the video comes just a day after Prime Minister David Cameron announced he would double military support to the rebels.
The Syrian Army has been making a number of strategic gains in recent weeks, particularly around the strategic town of Al Qusayr, close to the Lebanese border.
Israeli Prime Minister Benjamin Netanyahu has landed in Russia for talks with Russian President Vladimir Putin, where he is expected to press him not to supply advanced anti-aircraft systems to Syria.