It's a rite of spring, birds flying back to the Northland after a long winter.
But an especially long winter this year has caused big problems for the loon population.
"He needs a much larger area to achieve lift," said Erica LeMoine, Program Coordinator for LoonWatch, of a lone loon in a pond near Ashland.
The loons are turning up grounded because many Northland lakes, the bird's springtime landing pads, are still frozen.
"This late spring definitely has a detrimental effect. Especially when we have this type of weather," said LeMoine, "They found a loon in a wet, paved parking lot, in farm fields down by Rhinelander."
The loons are grounded, unable to move on land due to the mechanics of their body.
Raptor Education Group, Inc. has rescued
57 loons so far this spring.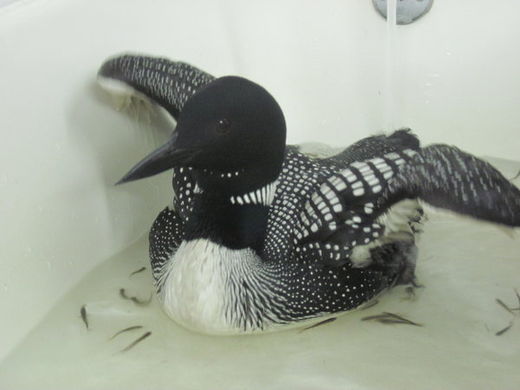 Adding to the struggle is that loons which do land in open water need at least a quarter mile of water to take off again.
"It's a problem all over. It appears all over Northeastern Minnesota, probably all over Northern Minnesota," said WildWoods Rehabilitation Board of Directors President, Nancy Wolfe.
Wolfe says the problem isn't just limited to loons.
WildWoods has also rescued 14 grebes
, another type of bird, from the same fate.
"It [the grounded bird] has no food source. It has no way to move. It has no way to get up and fly to get to a food source. So it's simply going to die of starvation," said Wolfe.
Both LoonWatch and WildWoods Rehab are asking for the public's help in rescuing the loons. They ask if you see a loon on the ground to call one of the number below immediately.