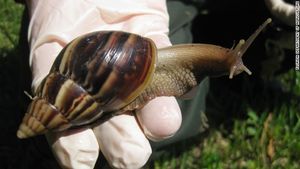 Residents of a Houston neighborhood are being warned to stay away from giant African land snails after a woman found one in her garden and snapped a photo of it.
The snails, researchers warn, are potentially dangerous to touch, in part because they can carry meningitis.
Scientists have warned anyone who comes in contact with them to wash their hands thoroughly.
"They also carry a parasitic disease that can cause a lot of harm to humans and sometimes even death,"
Autumn Smith-Herron, director of the Institute for the Study of Invasive Species at Sam Houston State University,
told NBC Houston affiliate KPRC
.
A woman gardening in the Briar Forest neighborhood of Houston found the snail and notified workers at the Lady Bird Johnson Wildflower Center who deal with invasive plants. It is the first reported sighting of the mollusk in Texas, and no one seems to know how it got there.
The giant snails can lay 100 eggs per month, and though only one has been found, it is believed more are in the area.
Jack Fendrick, who lives near where the slimy giant was discovered, said he will do his part to warn of the potentially deadly snails.
"I think most kids especially would look at a big snail and want to touch it," he said. "That's scary."