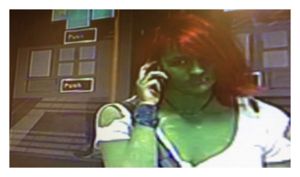 Police in north Yorkshire are appealing for witnesses following a suspected assault by a woman dressed as the
Incredible Hulk.
"Police hunt Incredible Hulk," a statement issued by the force said.
A 17-year-old girl suffered a black eye and other facial bruising in an attack outside McDonalds restaurant in Blake Street, York at around 3am on Friday, the statement added.
"At the time of the incident, the woman suspected of the assault was covered in green body paint with dyed red hair.
"However, she is believed to be a white woman, in her late teens or early twenties and around 5ft 8in tall with a medium build," the statement said.
Detective Constable Cheryl Hunter, of York CID, said: "This appears to have been a wholly unprovoked assault.
"Thankfully the injuries were not too severe. However, the outcome could have been far more serious.
He added: "If you witnessed the assault or can identify the woman I need to speak to about this incident, I ask that you contact the police or Crimestoppers straight away."