Unprecedented number of deads birds washing ashore
April 2013. A week after the first reports of birds covered in a sticky glue like substance being washed up on southwest beaches, wildlife charities have confirmed that the number of dead has passed 1000. This is in addition to the 200+ birds in the care of RSPCA and South Devon Seabird Trust.
Second recent incident
The substance has been identified as polyisobutene (PIB) by researchers at Plymouth University. It is the second time in just three months that PIB has killed hundreds of seabirds in the South West.
In this latest incident birds have been found in a wide area from Dodman Point, Cornwall to the Teign Estuary, Devon but the worst hit areas have been beaches along Whitsand Bay in south east Cornwall where locals have been counting hundreds of birds every day.
Alison Fogg, zoologist and environment campaigner who lives by the sea near Lanteglos in Cornwall has been close to the unfolding disaster; "It is hard to sum up so many different emotions, from the last few days, in a few words . Seeing more than 157 dead birds on Lansallos beach, followed by hundreds more at Lantic Bay, was quite devastating. Lansallos is a small sheltered beach on the South Coast of Cornwall. A haven for nature and totally unspoilt, this beach is popular with holiday makers, walkers and locals for swimming and relaxation.
"The scale of destruction to wildlife, in the beginning of the bird breeding season and at the start of the tourist season is quite difficult to comprehend."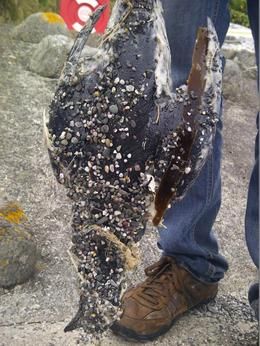 Unknown source
It is not known whether the substance got into the sea as a spill from a ship or as part of legal and routine tank washing operations.
We cannot go on treating our precious marine environment as a dustbin
Tony Whitehead from RSPB said; "The devastation this substance has caused has been appalling. To see the images of beaches strewn with bodies is a sobering reminder that we just cannot go on treating our precious marine environment as a dustbin.
"If this was an illegal spill, we need to support the Maritime and Coastguard Agency in tracking down the ship responsible. Although this will be difficult, surely it's not impossible.
Legal?
"If this was the result of legal tank washing operations, we need to urge the International Maritime Organisation (IMO) to tighten up the rules and make it illegal to wash this stuff into the sea. It's a noxious substance and we don't want it in our marine environment."
Abby Crosby, Marine Conservation officer for Cornwall Wildlife Trust; said; "The public have been calling our Hotline in droves and our brilliant strandings volunteers have been sending in their reports but, as dead birds may continue to wash up, we need to keep on recording."
Harry Barton, Chief Executive of Devon Wildlife Trust said; "This is an absolute tragedy for wildlife, but it is bad for all of us too. Our region is famous for its stunning natural environment and clean beaches, and that is why we have such a successful tourist industry. The prospect of wading through piles of dead birds on the shore is hardly the advertisement we want. This is the clearest possible sign that our economy depends on a healthy natural environment. Pollution incidents like this can be prevented if the political will is there to do so. We must act quickly and decisively to stop this happening a third time."
Marc Smith, Chesil Centre Officer at Dorset Wildlife Trust and one of the first on the scene at the similar incident in February this year on Dorset's beaches, said: "It was heart-breaking the first time around, seeing hundreds of birds washing up dead or helpless along our shore. Knowing this was preventable made the whole thing really stick in your throat. Now it is happening again only two months down the line. We need to stop the discharge of PIB into our seas. It's as simple as that."
The Wildlife Trusts, RSPCA and RSPB have this week written to shipping minister Stephen Hammond calling on Government to urgently raise the issue of PIB in the marine environment with the IMO and call on them to urgently review the hazard classification of PIB, and implement regulations that prevent its discharge into the sea.