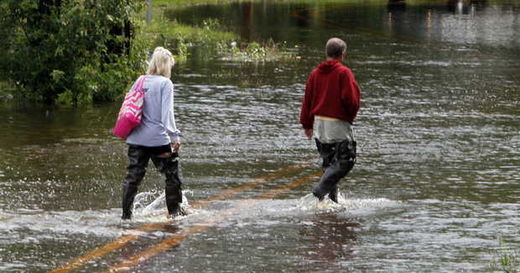 South Mississippi should brace for more showers through Saturday morning as a low pressure system hovers over the area, dropping nearly a foot of rain in east Jackson County, officials said.
The National Weather Service on Thursday morning registered rainfall at 1.71 inches in Gulfport, 4.27 inches in Biloxi and 7.12 inches in Pascagoula.
Radar estimates showed rainfall could have been even higher in Jackson County, meteorologist Mike Efferson said. "Anywhere from 10 to 12 inches," he said. "It was significantly higher in the northern half of the county and along that eastern border that meets up with Alabama.
The Coast will see a redevelopment of showers and thunderstorms Thursday afternoon with possibly another 1 to 3 inches to fall on already soaked soil, while some isolated areas could see significantly more, he said.
Showers could continue overnight, with a decreased chance of thunderstorms Friday afternoon.
Saturday should be sunny and bright.
The heavy rains pushed several area rivers to or above flood stage.
NWS issued a flood warning for the Pascagoula River at Merrill, which was at 16.3 feet at 2 a.m. Thursday. It's forecasted to rise above flood stage by late Friday evening and continue to rise to near 22.5 feet by Sunday morning.
The Escatawpa River is expected to rise above flood stage, which is 8 feet, by Saturday morning and continue to nearly 8.5 feet by Sunday morning.
The Biloxi River is at 13.8, which is above flood stage. It's expected to crest at 14.5 Thursday afternoon, Harrison County Emergency Manager Rupert Lacy said.
The Tchoutacaboffa River reached 12.7 feet by 11:20 a.m. and was forecasted to crest at 13 feet by Thursday afternoon.
The Wolf River is at 5.9 feet and expected to crest at 8.5 feet by late Saturday or early Sunday, he said.
Several roads remained under water in Harrison and Jackson counties, and Lacy reminded motorists to avoid standing water and respect barricades that are in place.
Hancock County is under a flash flood warning, Emergency Manager Brian Adam said.
So far, the Jourdan River is below flood stage but expected rain Thursday could cause it to rise quickly.
Hancock County on Wednesday was spared from much of the heavy rain that fell across the Coast and few problems were reported, he said.
River forecasts are based on rainfall that's occurred along with anticipated rain for the next 12 hours, said Nicole Grundel with Jackson County's public information office. Adjustments will be made if additional heavy rainfall occurs.
Residents in low-lying or flood-prone areas to secure their personal property, she said. "This includes moving vehicles, boats and anything else that has the potential to float away, to higher ground," she said. "If someone is in a situation where they are in need of rescue they should call 911 or their local fire department."
Grundel said one gate at Big Creek Dam in Mobile County in Alabama has been opened to 10 feet, but it will not impact Jackson County unless more are opened.
The East Central Emergency Shelter on Mississippi 613 in Hurley is open.
Wednesday's storms flooded roads and pushed into several homes prompting dozens of water rescues by fire personnel and law enforcement.
In Pascagoula, the King James area and Briarwood subdivision were flooded and two people were rescued, while Moss Point crews rescued 50 people, primarily in the areas around Kimberly and Rose drives, Karen Street and Belwood Court.
In northeast Jackson County, roads in the Cedar Creek Estates and Deer Creek Estates were washed out.
Central Fire Department crews rescued one person from Kenneth Cole Road in Vancleave, while the Jackson County Sheriff's Department and fire fighters rescued a mother and three children Thursday morning from Mongers Creek off Poticaw Road, Grundel said.