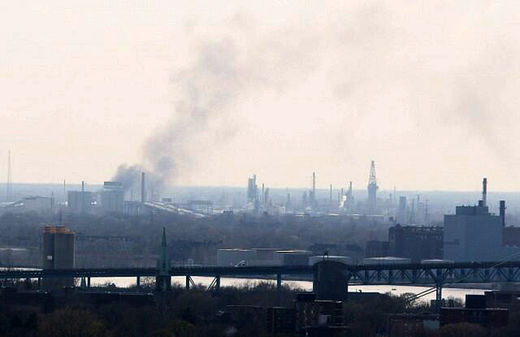 A tank containing diesel fuel at the Marathon Detroit Refinery has reportedly exploded, forcing a mandatory evacuation order for a nearby area. No injuries have been reported so far.
The fire is located in one of the refinery's smaller tanks, Marathon spokesman Shane Pochard has told the Detroit Free Press.
Marathon's own fire crew are battling the flames, along with first responders from Detroit and surrounding areas, Pochard said.
It is unknown if anyone was injured or how the fire started, Pochard said.
A HazMat team from the Detroit Fire Department and Senior Fire Chief Carl Smith are at the scene.
Reports of the explosion came in just before 6 pm local time.
Marathon, based in Findlay, Ohio, has 7 refineries.
"Police have blocked Fort Street off by I-75 south ... oh my goodness ... there's an ambulance out here, a fireman standing outside, you know, it doesn't look like they are trying to get close. They are not trying to go in there," one listener told the local radio station
.