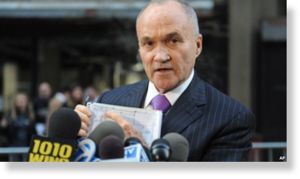 Police in New York City are guarding what appears to be a piece of wreckage from one of the jets that crashed into the World Trade Center during the terrorist attacks on the United States almost 12 years ago.
Surveyors checking a narrow alley between two buildings in a neighborhood several hundred meters from the site of the disastrous attack on September 11, 2001, found what appeared to be a portion of an airliner's landing gear.
The large piece of metal debris - more than 150 centimeters long and about 43 cm wide - is at the bottom of a space between the two buildings that is less than 46 cm wide. Rope attached to what appears to be a broken pulley is wrapped around part of the landing gear, indicating the wreckage may have been lowered to its current resting place from the roof of one of the two buildings.
Police said wreckage and debris from the explosions and fires resulting from the September 11 attacks had been found during the weeks and months after the attacks in 2001. They said they would attempt to remove the landing gear during the coming week, after checks to make sure the alley does not contain any hazardous materials or toxins.
The small alley where the wreckage was found is close to the site of a future Islamic community center. Controversy has swirled around the Islamic community's decision to place the center so close to the former World Trade Center site, but there appears to be no apparent connection between the building plan and discovery of the airplane wreckage.