Scotland battered again by second round of sandstorms devastating crops

Farmer Cameron MacIver in Moray says the sand is so high 'the only thing showing is top of fences'
Scotland was hit by a second bout of freak sandstorms today, causing an estimated £50,000 damage to crops.
Farmers in Elgin, Moray, had just spent a week clearing up after freak winds created
4ft high sand drifts
on Tuesday when more gales swept in, whipping up further sandstorms and devastating crops.
Barley farmer Cameron MacIver said: 'There's parts around my farm where the only thing showing above the sand is the top bit of the fence.'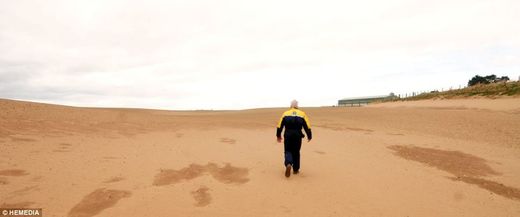 'The last bad case was when I was very young in the mid-70s and the mess it left was just incredible.'
Moray Council in eastern Scotland mobilised snowploughs to clear the roads, but today's winds were threatening to undo much of the work.
Cameron MacIver explained: 'The effect has been felt far and wide again now. I'm hearing stories from all over the place that people are having exactly the same problems from Nairn to Buckie.'
Murray White, the National Farmers' Union branch secretary for Inverness, Nairn and Moray, said: 'It's going to take some farmers several days to clear the sand away.
'We might have lost 10 per cent of the harvest, and then again we might have lost 50 per cent. It's too early to say at the moment.
'The situation will only become apparent over the coming weeks when crops either grow or don't.'