Horses have been "dropping like flies" on the Loughor Estuary, according to a lifeboatman.
John Edwards said horses have congregated at the marsh near Loughor inshore lifeboat station for years, and knew how to steer clear of the incoming tide, but that a high number of the animals had got stuck in the mud or perished.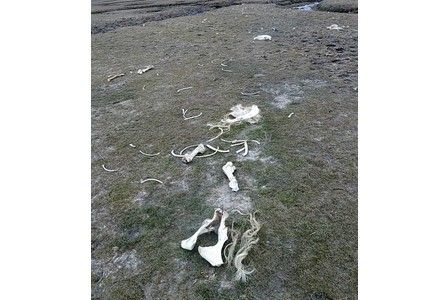 The
Post
has been emailed photographs which are too shocking to print of horse carcasses on the marsh. The photographer, who asked the
Post
not to name her, also sent this snap (left) of what she says are horse bones at the same location.
The
RSPCA
is investigating.
Swansea Council
said the dead animals were on the Carmarthenshire side of the estuary, while
Carmarthenshire Council
said the area was "a bit of a no-man's land".
Loughor inshore lifeboat station secretary Mr Edwards said: "I don't know what is going on.
We have never had these problems before. All of a sudden they are dropping like flies."
Mr Edwards said the lifeboat had launched to help mud-trapped horses, but had to be careful not to scare the animals and make the situation worse.
"Unless they are actually in danger we won't respond," he said.
"People say it's the owners' responsibility, but a lot of them are wild horses. Our concern is that if the animals are left to rot they (their remains) will go back into the water."
Mr Edwards said there were around 40 horses opposite the lifeboat station, and that an elderly man often used to pop along with bread for them. "When the tide comes in they go onto the bank and huddle together," he said.
The anonymous photographer described seeing 24 dead horses - or remains of. "For any person that feels these horses are at home on these marshes and estuary, may they think again," she said.
The Welsh Government is holding a consultation on fly-grazing and horse abandonment which ends on April 29.
The
RSPCA
meanwhile said it had removed three live horses this week from the Gower marshes which are now in the charity's care.
An
RSPCA
spokesman added: "Police and
Natural Resources Wales
have removed all the animal carcasses that were on the site. An
RSPCA
investigation is ongoing."