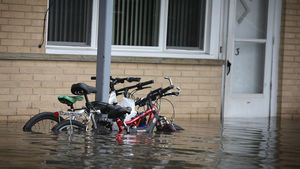 Torrential downpours along the Mississippi River have forced Midwesterners in half a dozen states to fight back floodwaters, which risk reaching record levels.
Illinois, Missouri, Michigan, Indiana, Iowa and Wisconsin all experienced flooding as heavy rainfalls hit the region Wednesday - posing a sharp contrast to the drought which months prior endangered commercial barge traffic on the Mississippi River.
On Friday, barge shipping was halted on parts of the Illinois and Mississippi Rivers as flooding prompted the US Army Corps of Engineers to close several locks until at least the middle of next week.
Seven Mississippi River locks were closed in total between Thursday evening and Friday morning as water topped dams.
The problem is set to intensify, as crests on the rivers are expected to be reached on Sunday at the earliest in more northern areas and several days later further south.
River levels are expected to exceed flood stage by 12 feet (4 meters) in some parts of Missouri and Illinois, running the risk of inundation, mass displacement of residents, and untold property damage.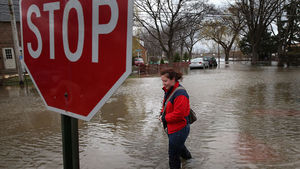 With Illinois thus far taking the brunt of the torrent, the city of Quincy epitomized the continued threat, where the Mississippi rose a
"pretty amazing"
10 feet in 36 hours, National Weather Service hydrologist Mark Fuchs told AP.
On the Illinois River - a principle tributary of the Mississippi which cuts 273 miles through the Prairie State - nine barges broke away from a tow in record floodwater late on Thursday and struck a dam near the city of Marseilles.
Four of the barges sank and three, including one carrying caustic soda, remained afloat, Ron Fournier, a spokesman for the Army Corps' Rock Island district told Reuters.
Some 1,500 people in Marseilles were forced to evacuate amidst fears the levee would breach following the barge incident. Around 500 people were also evacuated from the central Illinois town of London Mills after waters the Spoon River overtopped a levee.
One of the cities two bridges was shut down on Friday, and the sewage plant was risked being inundated.
With flooding shut down major expressways across northeast Illinois on Thursday evening - submerging hundreds of roads and homes - Governor Pat Quinn declared a state of emergency.
In the neighboring state of Indiana, the National Weather Service said the Wabash River in northwestern Tippecanoe County could crest at 25.5 feet (8 meters) on Saturday - its highest level in over half a century.
On Friday, Missouri Governor Jay Nixon also declared a state of emergency and activated the Missouri National Guard to in a bid to stave off the flood waters.