An estimated 7,000 fish are dead in the Vasse estuary at Wonnerup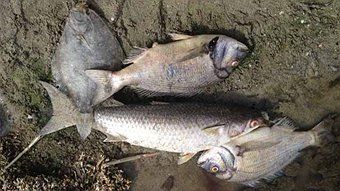 The latest fish deaths,
the third such event in five years
, has again called in the question the health of the Busselton waterways.
Low flows, poor water quality and phosphorus are the likely cause of the fish deaths in the Vasse estuary over the weekend, says Dr Kath Lynch of the Department of Water.
Water quality in the estuary is often poor but was notably bad this summer, she says.
Recent rains which washed down nutrients, combined with warm days, created perfect conditions for algae.
As a result, the water was depleted of oxygen, she explains in a nutshell.
Speaking on ABC South West Breakfast, Dr Lynch stated that opening the flood gates is not best way to manage the system.
"We have to reduce the nutrients coming off the catchment."
Responsibility for the flood gates isn't clear, she says. Experiments with opening the gates in the past have caused higher salt levels and resulting damage to farm property.
Some areas need to reduce phosphorus run off by about 70 per cent, says Dr Lynch.
"Until we turn off the tap in the catchment, we're struggling to do anything in these water bodies."
Listen to the interview to hear options for improving water quality.
"No quick fix for this problem," Dr Lynch maintains. Both farmers and gardeners need to address the issue.
"It's up to everybody who lives in the community to do something about this problem."
"It's going to take a long time."
The Department of Water has "no armoury" to force people to do the right thing, she says. Instead the department is hoping to education the community.
Where legislation has been successful is in limiting the amount of phosphorus in bagged fertilisers.
Barry Edwards lives right on the river.
He told WA Regional Drive that fish began exhibiting unusual behaviour late on Friday afternoon.
By Saturday morning they were jumping and beaching themselves, obviously in distress, he says.
"Mullet were nose out of the water in great lines."
Listen to the interview as Barry describes the scene.
Greg Simpson is Manager of Environmental Services at the City of Busselton.
Where responsibility lives for the river's health isn't clear, he says, with different agencies involved in different areas.
The City is looking to Perth where the authorities are trying to find answers after similar events.