Dead birds found in Marabella

EMA puzzled
Two days after more than 100 dead and sick corbeaux were found at the heliport in Chaguaramas, dead birds have turned up near the shoreline at Marabella.
Judith Lewis, of Bayshore, said several dead doves, pigeons and blackbirds were found underneath and in front of her house Thursday and yesterday.
Sixty-year-old Lewis said: "(Thursday) morning I got up and saw a pigeon under my house. Then my grandson came later in the evening and said there were two blackbirds under my house. When I looked around I saw four of them. This morning I saw a dove under the house and a pigeon dead by the neighbour. Another neighbour said she got four birds dead under the dog kennel. Now look four more birds dead by the shore."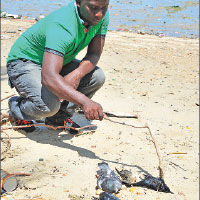 Earlier this week, the Environmental Management Authority (EMA), the Veterinary Public Health Unit of the Ministry of Health, the Poultry Surveillance Unit (PSU) of the Ministry of Food Production, and Forestry Division began investigating the discovery of approximately 150 dead and sick corbeaux, believed to have been feeding on the carcass of an animal which was poisoned.
EMA chief executive officer Joth Singh said the authority had received reports about the dead and dying birds and had launched an investigation.
"We can't identify an environmental cause as such that they were exposed to," he reported.
Singh said avian flu had not been ruled out and no chemical spills were found anywhere.
Public affairs officer of the T&T Defence Force Major Al Alexander said the dead corbeaux were collected and sent to Mount Hope Medical Sciences Centre for testing.
Contacted yesterday about the birds at Marabella, San Fernando Mayor Navi Muradali said he was not informed of the situation but will ask the San Fernando City Corporation's Public Health Department to investigate.