Dead dolphins continue to wash up on Peru's northern shores
, Peru21 reported on Thursday.
According to the daily, over 10 dolphins have been found dead on various beaches in the Lambayeque region, over the past 15 days.
Francisco Niquen, head of Lambayeque's Fishermen's Association, said the group had reported the incident to Peru's Sea Institute (Imarpe), but said the agency had not been to the site.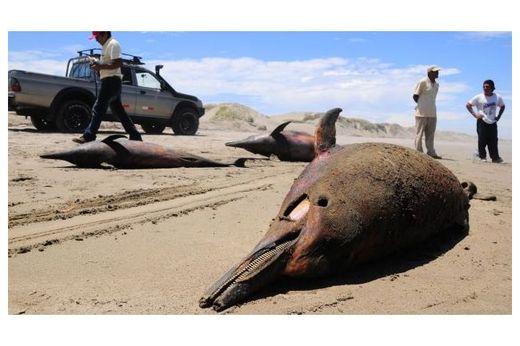 Niquen argued that the dolphins' death was caused by sound waves from seismic tests used by oil companies to locate deposits.
A study carried out by Imarpe last February, found that 50 sea lions in the area had died from poisoning. According to the daily, local fishermen were thought to be behind the incident, and an investigation is still underway.
Last year hundreds of dolphins were found dead on Peru's coast, leading that government to investigate the deaths. In May Minister of Production, Gladys Triveño, said the dolphins had died from natural causes.
"The dolphins that are better prepared will survive, this happens periodically and not only in Peru, also in New Zealand, Australia, and other countries. There is no need to look for a cause that does not exist," she said at the time.