The carcasses of more than 8,000 sheep that died in snow blizzards last month have been collected from NI farms.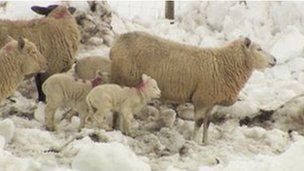 Agriculture Minister Michelle O'Neill told the assembly of the consequences of the weather on farmers.
She said farmers' losses were "greater than anticipated", adding that 8,153 dead sheep and 240 cattle had been collected from 440 farms.
The executive has agreed a £5m aid package to help those who lost livestock.
Mrs O'Neill said the Department of Agriculture and Rural Development would pay for the collection and disposal of animals that had died in the snow.
Any farmer who has suffered livestock losses as a result of the weather may be eligible for the scheme, which began on the 2 April and will remain in place until at least 19 April.
The minister said this would deadline would be reviewed.
Agriculture committee chairman Paul Frew, DUP, said the weather had been a "very tragic crisis to the faming community".
He said the minister had been "too slow to act" and had withdrawn a RAF Chinook helicopter providing aid too early.
This criticism was reiterated by the Alliance Party's Kieran McCarthy.
Mrs O'Neill said: "I don't agree with the assertion that there was a slow start.
"There was a humanitarian issue that had to be dealt with. Surely you are not saying that people should not be dealt with first, surely you are not saying that the priority should not have been getting water, medical supplies and food to people?"
RAF Chinook and Irish Air Corps helicopters made 46 air drops of emergency food supplies to farms in upper areas of counties Antrim and Down.
TUV leader Jim Allister said the hardship funding was a "token contribution that will come nowhere near the need" and questioned why additional money was not being made available for restocking and restoring infrastructure on farms.

Comment: Because it has all been spent lining the pockets of greedy banksters and arms manufacturers pillaging and plundering in far away lands.


The minister said the money available would be up to the maximum allowed under the European Union State Aid of 7,500 euros per farmer, including the collection and disposal of animals.
Mrs O'Neill said she was working under "verifiable laws on livestock" and acknowledged the scheme would not fully compensate farmers' losses.