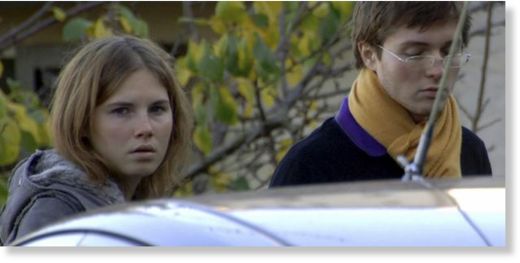 British exchange student Meredith Kercher, 21, was found dead, half-naked and in a pool of blood in the apartment she shared with Amanda Knox and two Italian roommates in the Italian university town of Perugia on Nov. 2, 2007. She died of a stab wound to the neck.
A Perugia court convicted Knox and her ex-boyfriend Raffaele Sollecito of Kercher's murder on Dec. 4, 2009, and sentenced Knox to 26 years and Sollecito to 25 years. An appellate court overturned their convictions on Oct. 3, 2011, and Knox returned to Seattle a free woman.
On Tuesday, Italy's high court ordered a new trial for Knox and Sollecito, overturning their acquittals.
Here's a look at the various versions of events the night of Nov. 1, 2007 in Perugia.
Prosecutors
:
Italian prosecutors allege that Knox and Sollecito, then 20 and 23, killed Kercher in a drug-fueled sex assault involving a third man, Rudy Guede of the Ivory Coast. They maintained the murder weapon was a large knife taken from Sollecito's house and found there by investigators. Prosecutors said the knife matched the wounds on Kercher's body and had traces of Kercher's DNA on the blade and Knox's DNA on the handle. The prosecutors depicted Knox as a sex-obsessed, manipulative "she-devil."
Defense Lawyers
:
Her defenders portrayed Knox as an innocent girl caught up in an Italian judicial nightmare, brow-beaten into saying things she didn't mean during a 14-hour interrogation by dozens of police. They claimed inept Italian police contaminated the Kercher crime scene and produced DNA evidence that was not scientifically sound.
Appellate Court Ruling
:
The appeals court that acquitted Knox and Sollecito in 2011 said there was no murder weapon and determined that the DNA evidence used to convict them was faulty. It also poked holes in the motive described by prosecutors. The court said the lower trial court failed to prove the two were in the house when Kercher was killed and that the guilty verdict wasn't corroborated by any evidence, but rather based on an improbable scenario: ''The sudden choice of two young people, good and open to other people, to do evil for evil's sake, just like that, without another reason."
The three-judge panel stopped short of saying what actually might have happened the night of Nov. 1, 2007 - or if the one man whose conviction has stood - Guede - acted alone.
Knox
:
Knox said she spent the night of the murder at Sollecito's house. She maintained they smoked a joint, watched the French film ''
Amelie
" and made love. Knox at one point told investigators she was home the night of the murder and had to cover her ears against Kercher's screams while she was attacked by a Congolese man who owned a bar where Knox worked. That accusation formed the basis of the slander verdict against Knox, which was upheld Tuesday. Knox said she was manipulated into the statement during a lengthy police interrogation and later said she hadn't been back in her apartment that night.
Sollecito
:
Sollecito told the appeals court that he was completely smitten with Knox, a new love he had known for less than a week. The night of Kercher's death, Sollecito said the two were together at his apartment. At one point he told investigators that he couldn't recall if they spent the whole night together, but in his memoir published last year he said he was ''exhausted and scared" when he signed a statement saying Knox had been out working until 1 a.m. and that he hadn't realized he was ''depriving Amanda of the only alibi she had."
Guede
:
The Ivorian was convicted in a separate trial of sexually assaulting and stabbing Kercher. His 16-year sentence, reduced on appeal from 30 years, was upheld by Italy's Supreme Court. Guede claimed during his appeals trial that he heard Kercher and Knox argue over money minutes before the Briton was slain. Guede claimed he had fallen ill and had gone into the bathroom with his iPod when he heard ''a very loud scream" coming from Kercher's bedroom. He rushed to the bedroom, he said, where he saw an unidentified man who tried to attack him. Backing into the hall, Guede said he heard the man say, ''Let's go. There's a black man in the house." Guede, a small-time drug dealer, fled Italy after the killing and was extradited from Germany to face trial.