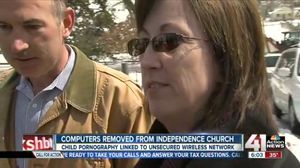 Federal and state authorities on Tuesday raided a Catholic parish in Independence, Missouri as part of an investigation into child pornography.
A spokesperson for the Catholic Dioceses of Kansas City-St. Joseph said that investigators tracked down child porn downloads to an IP address used by an unsecured wireless network at the offices of St. Ann Parish in Independence,
according to The Kansas City Star
.
Four computers seized in the raid will be analyzed to determine if they were used to download the illegal material from a peer-to-peer network. It is possible, however, that outside computers accessed the wireless network because it was not password protected.
"The church does not tolerate child sexual abuse or child abuse or child pornography of any kind," Diocese Director of the Office of Child Protection Carrie Cooper
told KSHB
. "And we will work fully - cooperate fully with law enforcement until this matter is resolved."
The warrant was served around noon on Tuesday. No charges had been filed in the case.
Church officials vowed to launch their own investigation if it was determined that parish computers were used for downloading the child pornography.
Watch this video from KSHB, broadcast March 26, 2013.