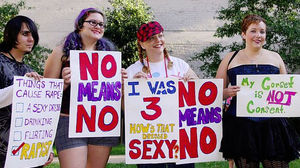 University of North Carolina at Chapel Hill Chancellor Holden Thorp on Tuesday asked the school's Honor Court to drop its proceedings against a student who said she was raped.
"For several weeks, the University has grappled with how best to respond to a public claim of retaliation against the University while maintaining the autonomy and integrity of our Honor Court proceedings and the privacy of the individuals involved," Thorp said in a
message
to students.
"Recognizing the potential conflicts that may exist by allowing both processes to continue, we have asked the Student Attorney General to suspend the Honor Court proceeding pending an external review of these allegations of retaliation," he continued. "The University takes all allegations of retaliation seriously, whether against an individual or an institution, and this allegation is no exception."
The situation has prompted outrage across the nation. Landen Gambill, a sophomore at the university, found herself
facing the threat of expulsion
after speaking out against her ex-boyfriend and abuser.
Along with other students and a former assistant dean, Gambill filed a federal complaint against UNC in January over its handling of sexual assault cases.
Her abuser responded by filing a complaint with the university's student-led Honor Court, claiming that Gambill was "intimidating" her. The same Honor Court had previously decided the accused rapist was not guilty, allegedly placing the blame for what happened on Gambill herself.
Gambill
filed a lawsuit
on Monday claiming UNC unlawfully retaliated against her for speaking out and filing the previous complaint. The university has denied it was retaliating against Gambill, explaining the Honor Court charges were decided entirely by students without interference from administrators.