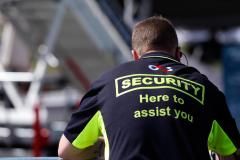 A British security firm that transports cash for Cypriot banks is working round the clock, sending teams out with police protection to stock bank machines and
readying guards for when banks reopen on Thursday
.
The world's largest security firm,
G4S
, moves cash and will provide guards for Cypriot lenders including
Bank of Cyprus
and
Cyprus Popular Bank
, the two biggest, which are to be combined and see large depositors' accounts frozen under a bailout agreed at the weekend.
Cypriot banks have been shut for more than a week while the government worked out the bailout and will stay closed until Thursday to prevent a run. Meanwhile, Cypriots have been queuing to withdraw cash from automatic teller machines, with limits at some shrinking down to 100 euros a day.
John Arghyrou, managing director of the Cyprus business for G4S, said its 750 employees have been working through the night, going out to replenish cash machines with police guard. Licensing rules prevented the firm from bringing in extra staff to handle the unprecedented workload.
"Demand is greater than we can provide... We haven't closed since the crisis started," he told Reuters. "I've never seen anything like it in terms of what is going on from a security perspective. I would say the workload has quadrupled because the whole system has changed."
Arghyrou would not comment on whether more cash has been flown in to replenish the vaults so that banks are ready to open on Thursday, but said he did not expect a bank run.
"People have had time to digest the agreement so maybe there won't be that scenario whereby people run to the banks to withdraw," he said.
"I don't see people panicking, I see people worrying about what the next day will hold for them, whether the next day they will have a job. I see people having a lot of questions and waiting for answers."
While the banks have been closed, businesses have been calling on the security company to find places to keep their cash and asking for guards and alarms to protect their assets.
They are also using G4S as an intermediary to bring money from overseas to pay wages and suppliers, and drawing on its systems for shipping cash to provide guarantees for payments abroad, effectively using it as a kind of bank.
The next big test will come on Thursday when
180 G4S guards will be deployed at bank branches to help handle an anticipated surge of customers demanding cash and answers
.
Arghyrou said his unarmed teams had been ready to go into action late on Monday night, when a last-minute decision was made to delay the banks' opening until Thursday.
"The staff will be based outside branches and are there to control queues, if there are any queues," he said. "We will be in contact with the police. Basically it is to make the banking people feel safe and the customers as well."
G4S earns 18 percent of its 7.3 billion pound turnover from its cash transporting business, which is struggling for growth in developed markets.
The rest comes from running services like prisons, manned guarding and port protection
.
The firm achieved notoriety for admitting just weeks before the start of last year's London Olympics that it could not provide a promised 10,400 venue guards, hitting its profit and reputation.
Source: Reuters