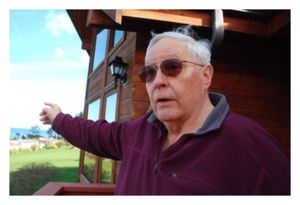 Unidentified flying objects over South Whidbey last weekend have left a Bush Point couple baffled and scared.
A series of mysterious orange lights appeared in the sky over Dick and Carol Johnson's home Saturday evening. While they are used to seeing all kinds of marine and air traffic from their picture windows overlooking Admiralty Inlet, the couple admits this has left them scratching their heads.
"We've seen a lot of stuff, but this was the weirdest thing we've ever seen," said Dick Johnson, a retired civil engineer.
The Johnsons have lived in the community for 17 years and were watching television Saturday at about 8:30 p.m. when they noticed what appeared to be a steady, orange light hovering over Marrowstone Island.
The lone light was quickly joined by several more, which then began to make their way across Puget Sound. Dick Johnson walked out on his porch and, to his astonishment, saw more over Whidbey Island, somewhere between their home and Lagoon Point.
The incident ended when two of the strange lights flew over their neighborhood; one went right over the top of their house, Dick Johnson said. In all, they reported a total of seven objects.
"The first thing I thought was Area 51 moved to Whidbey Island," he said.
As a hobby, Dick Johnson studies military aircraft, but said this was like nothing he's ever seen before. It lacked signature aviation navigation lights, moved quickly and was totally silent.
"I know what a helicopter sounds like; thump, thump, thump," he said. "This was no noise."
While he's more inclined to believe the lights were some sort of top-secret military project, as opposed to a flying saucer from outer space, the experience was more than a little startling.
The Johnsons called 911 and, as directed, contacted the Federal Aviation Administration to report their observations. They received no explanation.
"Someone has to come up with an answer for this because this was kinda scary," he said.
Mike Welding, spokesman for Whidbey Island Naval Air Station, confirmed that two P-3 Orions - large four-engine turboprop submarine hunters - took off from the airbase Saturday evening but neither flew over South Whidbey.
A
Whidbey News-Times
reporter also visited six different homes around the Johnsons' house, but none of the neighbors reported seeing anything out of the ordinary that night.
Several did express disappointment, however, at being left out.
"I wish I'd seen it," Tim Oliver said with a laugh.
A 23-year resident of the community, he also has a great view of the water and often observes marine and air traffic passing through the area. Oliver said he's never witnessed anything that might fit into the extraterrestrial category, but planned to redouble his vigil following the Johnson's encounter.
"Now I'm really going to be looking out the window," he said.
Another neighbor, who asked to be identified only by her first name, was home Saturday evening but said she also missed the excitement.
"That would be cool if it was (a UFO) but I didn't see anything," Janice said with a smile.
While being interviewed, another neighbor drove by and Janice eagerly asked if she had seen anything.
The driver replied that she hadn't but expressed the same excitement over the possibility.
Although the Johnsons appear to be the only people in Bush Point to witness the phenomenon, sightings of unexplained flying objects are nothing new on Whidbey Island.
According to the Washington-based National UFO Reporting Center's online database, six different sightings have occurred over the past eight months alone between Coupeville and Clinton.
The most recent took place in January when an observer reported seeing a "shiny boomerang shape flying over Langley."
"It made no noise and looked as if it was reflecting light, not emitting light," the unidentified party wrote. "It was a clear night and if there had been any details on the object (landing gear, engine housings) they would have been easily visible but there were none."
A July sighting last year, this one from the Clinton area, was strikingly similar to that of the Johnsons'.
"The objects were completely silent, orange in color, and appeared to be very close. There was no flickering or other lights coming from the objects," reporting party wrote.
Dick Johnson said he can't identify just what he saw and isn't making any conclusions. Both he and his wife, however, are sure that the lights were real and that they were the strangest thing they've seen in 17 years of living in Bush Point.
"This is not something I was imagining," Dick Johnson said. "I was sober, I don't drink, I don't smoke pot, I definitely saw what I saw."
"I'd swear on a stack of Bibles," he said.