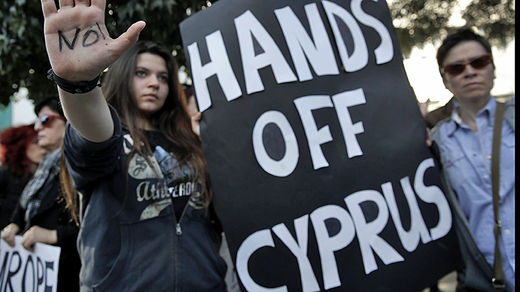 Cyprus has just 72 hours left to come up with a plan to raise €5.8bn before the European Central Bank pulls emergency funding from its ailing banks, plunging the country into economic turmoil and towards an exit from the single currency.
Politicians are frantically trying to scrape together a package to raise the money and get it approved by parliament. But they are playing a delicate balancing act, anxious to please the "troika" of the EU, ECB and International Monetary Fund (IMF), while not alienating their biggest investors in Russia.
In Cyprus, queues at ATMs grow longer each day amid fears that some of the banks could soon collapse and take people's deposits with them. Last night the Cyprus Popular Bank imposed a €260 daily withdrawal limit for all its customers while banks are likely to remain closed until Tuesday.
Scuffles broke out outside the Cypriot Parliament after protesters tried to storm the building but were prevented by riot police. Hundreds of Cypriots gathered after employees from Laiki Bank heard that it was about to be shut down as a condition of securing further funding.
Laiki employee Evi said: "We've lost our jobs, what am I to do now? I have three kids and many, many loans." A spokesman for Cyprus's central bank denied it was to close Laiki, but reports emerged of a plan to split it into two sections, including a Northern Rock-style "bad" bank.
This morning the ECB said it would continue emergency funding for the worst-hit banks until Monday. Further assistance "could only be considered if an EU/IMF programme is in place that would ensure the solvency of the concerned banks". The troika has offered €10bn to prop up the Cypriot economy after it was hit hard by the financial crisis in Greece, but this depends on Cyprus contributing another €5.8bn - funds EU officials are keen to see come from a tax on those with savings of more than €100,000.
The "Plan B" under discussion in Nicosia is reported to include a nationalisation of pensions, a possible contribution from Russia, and what Cypriot politicians are calling a "solidarity fund", which investors, businesspeople and others will be invited to contribute to. If it is not enough, Cyprus is set to become the first nation ousted from the eurozone.
"If the financial sector collapses, then they simply have to face a very significant devaluation and faced with that situation, they would have no other way but to start having their own currency," a senior EU official told Reuters news agency.
Eurozone leaders are desperate to prevent the chaos in Cyprus spilling into other nations in the bloc. Jeroen Dijsselbloem, head of the Eurogroup of finance ministers, said that the crisis in Cyprus does present a "systemic" risk: "The unrest of the last couple of days has proven this," he told MEPs.
The Cypriot Central Bank governor insisted they would have a programme in place by Monday, but a parliament vote on a deal planned for last night looked unlikely to go ahead. Eurozone finance ministers were due to hold a conference call to discuss the situation. "The Cyprus economy is on the brink and in a fragile state. The next move may prove its salvation or destruction," the Bank of Cyprus - the nation's largest lender - said in a statement. "It is imperative we immediately proceed with the drawing up of an agreement with the Eurogroup."
Last night, Cypriot Finance Minister Michael Sarris was still involved in talks in Moscow in an attempt to raise funds towards the bailout deal.