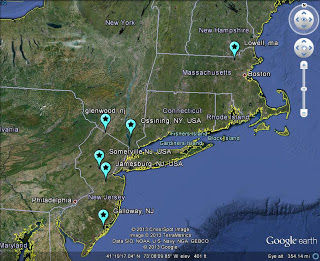 Initial Fireball Sighting Reports
14 March 2013 - Evelin Perez, Somerville, New Jersey, USA 19:50
3-4 seconds duration. North, from right to left. Blue, white, yellow colors. Very bright, big fireball.
14 March 2013 - Brenda Grant, Lowell, Massachusetts 7:49pm
5-10 seconds duration. North direction. White colour, as bright as the sun. Very bright and white in color, I saw it a little above the horizon.
14 March 2013 - Ala., Glenwood, New Jersey 19:45
4 to 5 seconds duration. East direction. White color, as bright as the moon! Yes, I saw fragmentation, biggest meteor ever!