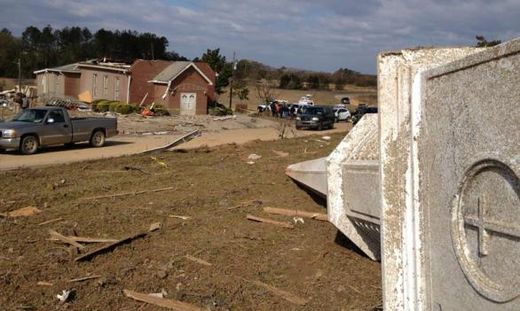 A Tuesday night tornado with wind speeds near 100 mph took the roof and steeple off a rural church, flattening nearby tombstones and downing trees.
No one was injured in the storm that struck about 7:30 p.m., but three residences were damaged and about 10 people displaced, authorities said.
Kent Frantz, a meteorologist with the National Weather Service in Atlanta, was at the site Wednesday and said the destruction path was about 150 yards wide and about three-quarters of a mile long.
State and federal emergency agencies and the American Red Cross were helping those hit by the storm.
One of the victims, Diane Newsome, said it was all unexpected.
"In the beginning it was lightning and thunder, then stopped," she said Wednesday. "Then it sounded like a train coming through and it destroyed everything."
Her mother Elaine Young, of Dearing, Ga., said, "I thank the good Lord we're still living."
"There ain't no place like home," Newsome added through tears. "I just want to come home."
Although the roof of Magnolia Baptist Church is gone, the ceiling, pulpit and pews are still intact. No dollar value has been determined for the damage.
Officials said anyone wishing to help may contact the American Red Cross or the Glascock County Sheriff's Office.
The church at Magnolia Church Road and Highway 171 North has planned a cleanup day at 8 a.m. Saturday.