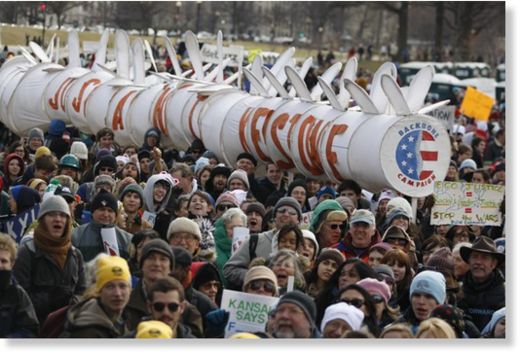 Thousands of people have gathered in Washington today to urge U.S. President Barack Obama to make good on his recent promises to combat climate change.
TransCanada's proposed Keystone XL pipeline project is the rally's most popular whipping boy.
Organizers are billing the protest, held at the foot of the Washington Monument, as the biggest climate protest in American history.
Protesters formed a human pipeline and many waved signs and chanted slogans against Keystone XL.
Thousands have spilled onto the National Mall despite chilly temperatures and brisk winds.
Among them: Canadian tribal leaders, movie stars, Americans with ties to Canada and even a group of nuns.
Speakers included prominent environmentalists like Bill McKibben, head of 350.org, who was arrested last week at a similar protest outside the White House.
The U.S. government is reviewing the Keystone proposal, which would ship bitumen from Alberta to the U.S. gulf coast.
Source: The Canadian Press