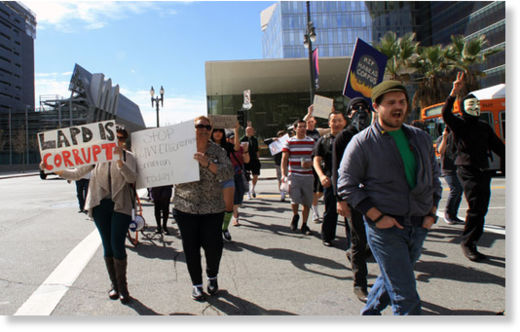 Dozens of protesters gathered outside the Los Angeles Police Department headquarters downtown Saturday afternoon, holding signs of support for Christopher Dorner, the fired police officer suspected of killing four people.
Those gathered said they were protesting police corruption and the way the massive manhunt for Dorner was conducted. Authorities said Dorner appears to have died from a self-inflected gunshot wound after a shootout with police in Big Bear on Tuesday, ending a deadly rampage that stretched across Southern California.
Protesters said they believed Dorner's claims that he was unfairly fired from the department in 2009 - grievances described in a lengthy online manifesto that has been attributed to him. Dorner also claimed that he was the victim of racism.
Protesters also said they were appalled by police mistakenly shooting at passengers in two separate trucks in Torrance, wrongly believing Dorner might be in the vehicles. One woman was shot in the back and is still recovering.
The protesters emphasized that they did not condone the killings of which Dorner is accused.
Michael Nam, 30, stood at the corner of 1st and Main Streets with a sign, painted by his girlfriend, showing a tombstone and the words "RIP Habeas Corpus." The tombstone was engulfed in flames.
Nam, of Lomita, said he was disturbed by the burning of a mountain cabin near Big Bear where Dorner barricaded himself with a high-powered sniper rifle, smoke bombs and a cache of ammo. The blaze started shortly after police fired "pyrotechnic" tear gas into the cabin; the canisters are known as "burners" because the intense heat they emit often causes a fire.
But authorities have maintained that the fire was not intentionally set.
Dorner, whose charred body was found in the cabin, appears to have died of a single gunshot wound to the head, authorities said.
"How the police handled this - - they were the judge, the jury and the executioner," Nam said. "As an American citizen, you have the right to a trial and due process by law."
Nam, a former Marine and a current member of the Army National Guard, said he has combat experience from deployments in Iraq and Afghanistan.
He said he has been in situations in which a combatant has been barricaded and successfully waited until the person surrendered, eventually getting "tired and coming out on their own."
Nam said it was "pretty obvious" police wanted Dorner dead. "What I saw was a complete disregard for the Bill of Rights," Nam said.
San Bernardino County Sheriff John McMahon, during a news conference Friday, defended the tactics used by his agency in the shootout at the mountain cabin, which left one of his deputies dead and another seriously wounded.
"The bottom line is the deputy sheriffs of this department, and the law enforcement officers from the surrounding area, did an outstanding job," he said. "They ran into the line of fire."
Protesters on Saturday said they organized the event through a Facebook page called "I support Christopher Jordan Dorner." The Facebook post announcing the protest tells attendees to "keep it PEACEFUL" and to bring recording equipment.
The Facebook page states: "This is not a page about supporting the killing of innocent people. It's supporting fighting back against corrupt cops and bringing to light what they do."
As the protesters stood Saturday, drivers passing by honked, waved and gave thumbs up. A handful of officers watched from police headquarters across the street.
Nam said he spoke to the officers before the protest began about what the protesters should do to keep the event peaceful. He said the officers were respectful.
The protesters marched around the block, circling an intersection near the department headquarters. They chanted, "LAPD, you are guilty."
Signs expressed anger at police and support for Dorner.
"If you're not enraged, you're not paying attention," one sign read.
"Why couldn't we hear his side?"
"Clear his name! Christopher Dorner"
Liliana Alaniz, 40, came with her family - - her mother, sister, nieces and daughters - - from Long Beach to join the protest, which she said was her first.
"I really, really believe he was innocent in the firing case," Alaniz said of Dorner.
Alaniz held a sign that read, "Trying to clear your name."
Her daughter, Andrea Tovar, said Dorner "has his supporters."
"Murder is never right, but neither is the law when it's unjust," said Tovar, 18. She said police need to know they "can't get away with everything."