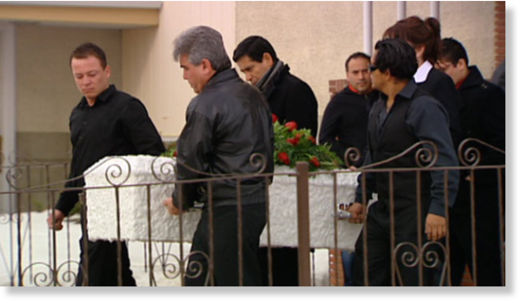 Canada, Edmonton - Hundreds of people watched as a small white casket, adorned with roses, was carried into a central Edmonton parish Saturday morning - a final farewell to 7-year-old Omar Jajoy.
"Omar was ...a very happy kid and a joy for his family," said Max Caravantas, a family friend.
"The service was very touching. We all felt, you know, what the family felt today. It's a tragedy for our community and a tragedy for the Jajoy family as well."
Omar's body was found in a south Edmonton apartment Tuesday morning. The cause of death has not been released, but it is believed he drowned.
Friends at the funeral described him as a friendly boy who enjoyed playing soccer and video games.
His mother, Nerlin Sarmiento, who is charged with first-degree murder in his death, was not at his service.
In an
earlier interview with CBC News
, the boy's father, Florentino Jajoy, said his wife is suffering from severe depression. He says he will support her through the trial.
Friends say Omar's death and the accusations against his mother have shocked the city's tight-knit Columbian community.
Andres Paredes, who has known the family since they came to Edmonton four years ago, says he couldn't believe the news when he first heard it.
"I thought it was a joke, I couldn't believe it. But when I saw the reality, I started to shake."
He says the children of the community, many who knew Omar, are especially devastated.Sarmiento remains in custody at the Alberta Hospital.
Yesterday, a judge ordered her to undergo a 30-day psychiatric assessment to determine her fitness to stand trial.