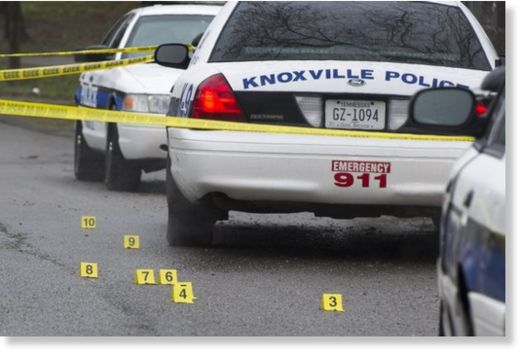 A 19-year-old pregnant woman shot Wednesday during a domestic argument in East Knoxville has died.
Marcia Crider of Washington Avenue in Knoxville died Wednesday at the University of Tennessee Medical Center, according to Knoxville Police Department spokesman Darrell DeBusk.
Crider was 13 weeks pregnant, DeBusk said.
"The District Attorney's office said 13 weeks would not represent a viable fetus and would not support a second murder charge," DeBusk said this morning.
Crider's mother drove her to a nearby pay phone to call E-911 immediately after the attack, which was reported shortly before 11 a.m.
Emergency responders found the pair in the parking lot outside the Amvets Thrift Store, 4105 Holston Drive.
Crider was bleeding from her head as paramedics attempted to stabilize her at the scene. Moments later, she was transported by ambulance to the University of Tennessee Medical Center.
After speaking with the mother, investigators quickly shifted their focus a couple of blocks away to a house at 3941 Porter Ave. The two women apparently were sitting in a car parked on the street when the gunman struck.
"Two women were inside their vehicle on Porter when they were confronted by an individual who fired into the vehicle," said DeBusk. "It appears to be a domestic shooting."
Investigators questioned several people nearby who DeBusk deemed as knowledgeable about what happened and why the shooting occurred.
He added that the mother and daughter have a "connection" to the address, although neither lives there. DeBusk this morning declined to say why Crider and her mother were on Porter Avenue.
Police have the name of a man deemed a "person of interest," said DeBusk, but no one had been taken into custody as of this morning.
"We have not questioned the person of interest," DeBusk said this morning. No charges have been filed in connection with the shooting, he said.
A couple who lived several doors down from the scene of the shooting said they heard at least six gunshots and as many as 10.
The street in front of the home was littered with shell casings, suggesting that a semi-automatic weapon had been used.
More details as they develop online and in Friday's News Sentinel.