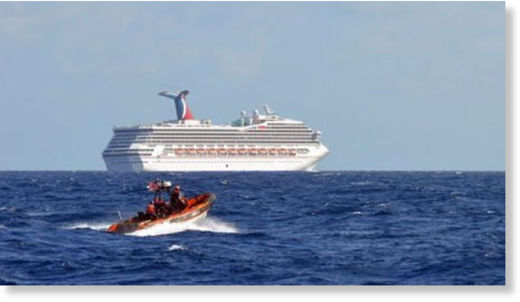 A cruise ship that lost power in the Gulf of Mexico, trapping more than 4,000 people aboard, had already suffered electrical problems as recently as a few weeks ago, its operator Carnival said Wednesday.
With the ship and its passengers still at sea being towed to safety, news of the Carnival Triumph's previous woes will increase pressure on the company, but a spokesman insisted the two sets of problems were unrelated.
"Carnival Triumph previously experienced an electrical issue with one of the ship's alternators," spokesman Vance Gulliksen told AFP.
"Repairs were conducted by the alternator supplier and were fully completed on February 2. There is no evidence at this time of any relationship between this previous issue and the fire that occurred on February 10."
Carnival said it has canceled several upcoming sailings of the stricken Triumph, which is being towed to a US port three days after finding itself adrift following Sunday's mishap.
The company said it has dispatched a third tugboat to help tow Triumph to port and that the ship, carrying more than 3,000 passengers and more than 1,000 crew members, is expected to reach Mobile, Alabama on Thursday.
The Miami-based operator said cruises on the ship, which left the port of Galveston in Texas on February 7, have been halted until at least mid-April.
The Triumph had originally been scheduled to return to port early Monday after a weekend stop in Cozumel, before Sunday's engine room blaze left the vessel without power.
Carnival said in a separate statement on Wednesday that "voyage disruptions and related repair costs" would result in a $0.08 to $0.10 earnings per share reduction for the first half of the year.
In January 2012 a Carnival ship, the Costa Concordia, ran aground and sank off the Italian coast, killing 32.
Carnival Corporation & PLC is the largest cruise company in the world, with sailings from North America, Europe, Australia and Asia.
Among its best known brands are Carnival Cruise Lines, Holland America Line, Princess Cruises, Seabourn, AIDA Cruises, Costa Cruises, Cunard, Ibero Cruises, P&O Cruises in Australia, and P&O Cruises in Britain.
Company officials told AFP some 200 workers will be mobilized on the ground in Mobile to greet the arriving vessel and to help guests travel home, adding: "Carnival will cover all travel related and incidental expenses."
Source: AFP