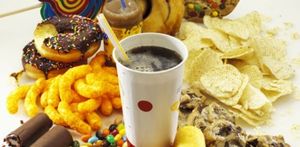 Multinational food, drink and alcohol companies are using strategies similar to those employed by the tobacco industry to undermine public health policies, health experts said on Tuesday.
In an international analysis of involvement by so-called "unhealthy commodity" companies in health policy-making, researchers from Australia, Britain, Brazil and elsewhere said self-regulation was failing and it was time the industry was regulated more stringently from outside.
The researchers said that through the aggressive marketing of ultra-processed food and drink, multinational companies were now major drivers of the world's growing epidemic of chronic diseases such as heart disease, cancer and diabetes.
Writing in
The Lancet
medical journal, the researchers cited industry documents they said revealed how companies seek to shape health legislation and avoid regulation.
This is done by "building financial and institutional relations" with health professionals, non-governmental organizations and health agencies, distorting research findings, and lobbying politicians to oppose health reforms, they said.
They cited analysis of published research which found systematic bias from industry funding:
articles sponsored exclusively by food and drinks companies were between four and eight times more likely to have conclusions that favored the companies than those not sponsored by them.
Comment:
Speaking of '
systematic bias from industry funding
' read the following articles about Paleo Blogger Steve Cooskey's freedom of speech case regarding nutritional health advice:
Paleo Diet Blogger Sues State For Trying To Regulate His Advice
Lawmakers fail to restore paleo blogger's free speech
Blogger Giving Advice Resists State's: Get a License
New Campaign Seeks to Make Big Changes at the American Dietetic Association - Registered Dietitians Speak Out!
State of North Carolina Threatens to Shut Down Nutrition Blogger:
Nutrition board says he needs a license to advocate dietary approaches...

North Carolina General Statutes makes it a misdemeanor to "practice dietetics or nutrition" without a license. According to the law, "practicing" nutrition includes "assessing the nutritional needs of individuals and groups" and "providing nutrition counseling."
Is the American Dietetic Association Manipulated by the Food Industry?
The ADA has attempted to pull the wool over many Americans' eyes and lead them to believe that only an ADA-certified RD can give proper nutrition advice.

But many are unaware that the ADA is partnered with and sponsored by junk-food industry giants, including Coca-Cola, Pepsi, Mars and Kellogg

. And, as a result, dietary advice given by many RDs is likely to be heavily biased by information from food-industry bigwigs.

Case in point, the American Dietetic Association's (ADA) annual conference is often called "the world's largest meeting of food and nutrition experts." Interestingly, though, they never invited anyone that most people would recognize as a true expert in the use of diet to optimize human health to their conference, and it is unclear how a conference that features exhibits by Coca-Cola, General Mills, and other processed food and junk-food giants could ever make a positive impact on Americans' health.

The same is true for some of their presentations, such as one titled "A Fresh Look At Processed Foods," presented by a 15-year Kellogg's veteran and an employee of the International Food Information Council, which has representatives from Dannon Co., General Mills, Kraft Foods, PepsiCo, and Mars, Inc. on its board of trustees.[3]

The speakers actually gave the message that processed foods are an important part of the American diet to be consumed along with fresh produce! This is shocking on its face, but not entirely surprising if you're familiar with the ADA's corporate partners and sponsors.
"Regulation, or the threat of regulation, is the only way to change these transnational corporations," wrote the researchers, led by Rob Moodie from the University of Melbourne in Australia.
Ian Gilmore, special adviser on alcohol to Britain's Royal College of Physicians said the findings were "a final nail in the coffin" of the idea that involving the alcohol industry in public health measures could work.
"Any government serious about public health should in future divorce its public health activities from industry involvement," Gilmore, who was not involved in study, said in a statement.
Responding to the study's criticisms, UNESDA, which represents the non-alcoholic drinks industry in Europe, said experts recognize obesity has many causes including diet, lack of exercise, genetics and lack of nutritional knowledge.
It added that, within the EU, the European Commission had opted to take a "multi-stakeholder approach gathering governments, industry, the healthcare community and civil society to work together to teach people how to eat better, take more exercise and lead healthy, balanced lifestyles".
The researchers said, however, that their evidence showed this collaborative approach had failed. They recommended that, in future, food, drinks and tobacco firms should have no role in national or international policies on chronic diseases.
Instead, they proposed a system of "public regulation" which they said would focus on directly pressuring industry by "raising awareness of their shady practices and maintaining active public pressure".
(Editing by Robin Pomeroy)