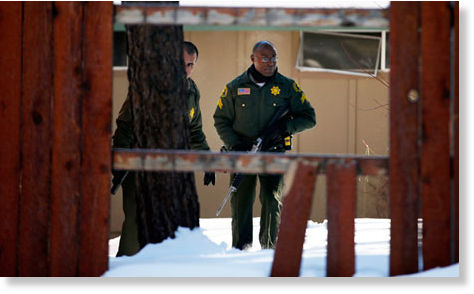 Rogue ex-police officer still at large in southern California after bungling LAPD shoot at innocent members of the public
Authorities in Los Angeles are expected to offer a $1m reward for information about the rogue ex-police officer who is suspected of killing three people, after a massive manhunt failed to catch him.
City officials, law enforcement groups and private donors were due to announce the reward on Sunday as the trail for Christopher Dorner in the mountains of Big Bear went cold, leaving police across southern California tense and fearful.
Dorner, 33, a former navy reservist and trained marksman, has declared war on law enforcement officers and their families, in revenge for his firing from the force. His rampage and the LAPD's blundering response - shooting and wounding people mistaken for the fugitive - has transfixed the US and turned Dorner, in some quarters, into a rebel folk hero.
In a surprise announcement on Saturday, police chief Charlie Beck ordered a review of the disciplinary case that led to Dorner's dismissal and promised to hear him out if he surrendered.
"I do this not to appease a murderer," Beck said in a statement. "I do it to reassure the public that their police department is transparent and fair in all the things we do."
In an online manifesto posted before his shooting spree, Dorner alleged that racist colleagues had drummed him out for protesting a training partner's alleged assault on a homeless man in 2007. An internal investigation concluded in 2009 that there was no assault and that Dorner had lied.
A joint taskforce involving the LAPD, FBI and other police forces will examine a case that Beck acknowledged had revived concerns about racism within his force. "I feel we need to... publicly address Dorner's allegations regarding his termination of employment," he said.
Police hoped to corner Dorner in the snowy woods of Big Bear, a ski resort north of Los Angeles, after his truck was found on fire and abandoned on a dirt forest service road in the area. Its axle was damaged and torched weapons and survival gear were inside. Swat teams poured into the area, battling freezing temperatures and poor visibility, but after four days there was no sign of their quarry. Some teams pulled out, leaving about 50 offices still scouring a smaller area.
In a short video posted on TMZ, the actor Charlie Sheen invited Dorner to get in touch, noting that he had been praised as "awesome" in the fugitive's rambling, 11,000-word manifesto. "You mentioned me in your manifesto, so thank you for your kind words," Sheen said. "I am urging you to call me. Let's figure out together how to end this thing. Call me. I look forward to talking to you."
Dorner vowed to wage "unconventional and asymmetrical warfare" against his former comrades and detailed a 40-person hit list. The story has blazed over social media and prompted comparisons to films such
Cape Fear
,
Rambo
,
The Deer Hunter
,
The Bourne Ultimatum
and
The Fugitive
. More shockingly in some minds, Dorner has been hailed as a rebel.
His rampage began on 3 February when he allegedly killed his first victims: Monica Quan, 28, a basketball coach, and her fiance, Keith Lawrence, 27, as they sat in a car in Irvine, south of LA. Quan was the daughter of a police captain who had represented Dorner - negligently, in Dorner's view - at his tribunal.
As units scrambled to protect those named on the hit list, he was spotted near Corona at 1.30am local time on Thursday. He exchanged shots with a patrol, grazing one officer in the head. About 20 minutes later Dorner allegedly ambushed two officers at a red traffic light in nearby Riverside, killing one, a veteran, and wounding the other, a trainee.
Police lashed out but picked the wrong targets. Officers from the Hollywood division shot at a pick-up truck in Torrance, thinking it was Dorner's grey Nissan. They fired more than two dozen bullets, only to find they had hit two women, a mother and daughter, who were delivering newspapers. They were taken to hospital with minor injuries. A few minutes later officers in another part of Torrance opened fire on another pick-up driven mistaken for Dorner's vehicle. The driver, a baggage handler at LA airport, was not hit but suffered concussion and other injuries. The LAPD has apologised to the victims.