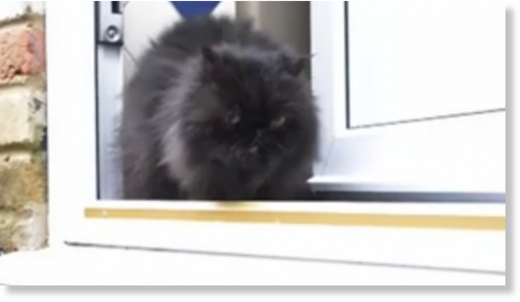 Caffrey, a black Persian cat living in the U.K. has only two legs, both on the right side, and yet the brave, 14-year-old cat soldiers on, making do with his remaining appendages.
According to the Daily Mail
, 10 years or so ago, Caffrey was hit by a car. He lost his left hind leg altogether and his left front leg was damaged, but eventually healed. Then, a few months ago, the cat developed a malignant growth on his left front paw.
Caffrey's owner, Sue Greaves, 58, knew that her options were amputation, expensive and debilitating chemotherapy or euthanasia. Even though several veterinarians advised against it, Greaves opted to have the left front leg removed.
The cat has barely slowed down at all. He hops from place to place and seems quite content.
"Everyone who sees him is astonished at what he can do," Greaves said. "He doesn't seem bothered at all by having only two legs."
Watch the video, embedded below via the
Daily Mail
: