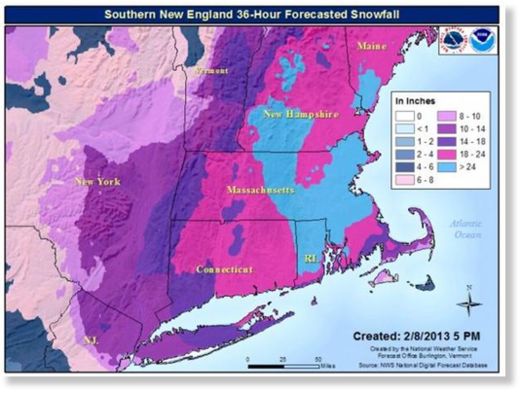 A potentially historic blizzard swept into Massachusetts today and is expected to dump more than 2 feet of snow, whip winds up to 70 miles per hour, and batter the coast with giant waves.
Roads are emptying out now as drivers heed an order issued by Governor Deval Patrick that all vehicles be parked by 4 p.m. Sideways-blowing snow is adding to the falling darkness.
More than 5,000 power outages have already been reported as winds down tree limbs and wires.
In Marshfield, officials said they expected to ask shorefront residents to evacuate themselves because of concerns about storm-driven tides tonight and Saturday morning.
Patrick, at a news conference this afternoon at the state's emergency bunker, announced that he was declaring a state of emergency to allow the state to take special steps and mobilize assets to ensure residents' safety.
The storm has been dumping moderate amounts of snow since it began mid-morning in Boston. By midafternoon, the National Weather Service had fielded reports of 2 or 3 inches of snow in some communities. The storm is expected to intensify in the evening hours, the weather service said.
Boston.com weather blogger and meteorologist David Epstein said the storm would be at its most intense from 7 p.m. tonight to 5 a.m. Saturday.
National Weather Service meteorologist Bill Simpson said 18 to 24 inches of snow are expected in most areas of the state. Isolated areas could get more, he said. A weather service forecast discussion said some areas could get up to 30 inches, which was down slightly from earlier predictions that the state could see up to 3 feet.
"The afternoon commute should get pretty hairy as far as snowfall," Simpson said. He said it was a good thing that the brunt of the storm is expected to hit from nightfall until Saturday morning.
Weather service radar late this afternoon showed an area of heavy precipitation streaming towards the state from the south.
The storm has two energy sources, Simpson said, a cold high-pressure system from Canada that is clashing with a low-pressure system moving up the East Coast, in the classic setup for a New England nor'easter.
Kurt Schwartz, director of the Massachusetts Emergency Management Agency, said at the news conference that the travel ban announced by Patrick, a rare measure, applied to all roads in the state, but there were various exceptions, such as for public safety, media, and vehicles supplying essential businesses like convenience stores and hardware stores. Violating the travel ban, he said, could incur a penalty of a year in jail and a $500 fine.
Patrick emphasized that the point was not to catch people violating the ban but "to emphasize how critical it is that nonessential travel on the roads cease."
State officials also dropped tolls on the Massachusetts Turnpike this afternoon to help speed people to their destinations.
Patrick said 1,000 National Guard members were activated today and he expected that as many as 5,000 would be activated this weekend.
State transportation officials said that by 4 p.m. there were 3,464 crews out plowing roads covered with slush and snow.
State and local officials had already decided to shut the MBTA down at 3:30 p.m., close school systems, keep nonessential state workers at home and to urge the private sector to follow suit.
With snow pelting down and wild winds blowing, "whiteout conditions are anticipated as roads become snow covered by this evening commute,'' the weather service said today in blizzard warnings covering Eastern and Southeastern Massachusetts. Strong north-northeast winds are anticipated blowing 30 to 40 miles per hour and gusting up to 70 miles per hour, while temperatures linger in the upper 20s.
The weather service also issued coastal flood warnings, saying that the storm will produce moderate coastal flooding this evening and moderate to major coastal flooding Saturday morning as large waves, some of them nearly 30 feet high, pound the shore and devour beaches.
Shore roads may be flooded and some shorefront homes may be damaged during the Saturday morning high tide, the forecasters warned.
The state's court system shut down at noon today, but judges will still be on call to handle emergencies, such as requests for restraining orders, the court system has announced.
The MBTA hopes to resume service by Monday.
Airlines at Logan International Airport will wind down flight operations this after­noon; scheduled flights could resume Saturday afternoon, airport officials said.
Amtrak is canceling service between New York and Boston starting Friday afternoon, and is also suspending trains out of Springfield, Vermont, and Maine. Saturday cancellations have not yet been determined.
Peter Pan bus line has canceled all its routes north of New York City and Greyhound has canceled buses traveling between New York and Boston.
All four major utilities that supply the state have begun extensive preparations, and at least one of them, NStar, has canceled workers' vacations and ordered all workers to be available, going on its highest level of alert, officials said.
At a morning news conference, Boston Mayor Thomas M. Menino warned, "This is a very large and powerful storm," he said.
He said city buildings were closing at noon and urged people to stay at home and let the city's public works crews "do their job" cleaning up the snow.
Cars parked on central arteries will be towed under the emergency order, officials said.
The city will have more than 600 pieces of equipment on the road at the height of the storm, Menino said, and has 34,000 tons of salt ready. Officials urged patience among residents, saying it will take time to clear the roads.
Officials also advised people to call 911 if they see homeless people outside who seem disoriented. "There's no reason for anyone without a home to be outside during the storm," said Barbara Ferrer, who directs the city's health commission.
A few light flakes began dancing aimlessly down from the sky in Boston at mid-morning, in a picturesque prelude to a storm that could endanger people and property.
Light snow began falling in Boston's South End at 9:28. Inside the iconic Charlie's Sandwich Shoppe, a cry went out, "Snow!"
The storm is expected to hammer the Northeast, especially New England, until sometime Saturday afternoon.
The weather service is warning mariners that the storm will bring hurricane force winds to Georges Bank and may cause coastal flooding during high tides over the next two days.