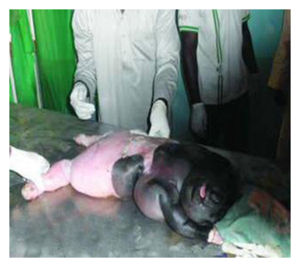 With what could be termed the aftermath of cross-breeding between man and animal, was recorded on Tuesday in Minna the Niger State capital, as a human-like creature was discovered in the uterus of a butchered ewe (female sheep) at the Kuta market.
The incident which occurred in the early hours of Tuesday is
the second so far witnessed by livestock dealers in recent times, with the first incident in 2011.
According to the butcher Alidu Maiyanka "it was around 10:30 in the morning that I discovered the monstrous creature after slaughtering an ewe I bought on Monday from Kuta."
Alidu, on becoming faced with the mystery, said he contacted his colleagues who came also to catch a glimpse of what had happened after which several people started trooping in from Minna and its environs.
An eyewitness, who is also a butcher, Gambo Adbullahi said before the ewe was slaughtered, there was no sign that it was pregnant and that the human-like lamb was found in the uterus of the ewe which indicated that the ewe must have had an ectopic pregnancy.
Secretary, Minna Association of Livestock dealers, Waziri Haruna said the monstrous creature was found still alive and still lived about 2 hours before giving up, adding that 'it was the second time such incident would happen in the market'. The first, according to him, was in 2011.
The monstrous creature had two eyes, two ears and a mouth like that of a human with two limbs.
Speaking on what could have resulted in the abnormal formation, a Vetenary Surgeon and Clinician with Niger state Ministry of livestock and fishery, Dr. Samuel Joseph said that it was possible to have such congenital defect.
According to him "such defect could occur as a result of injection of Agro chemicals and other factors which adversely affect growth of livestocks in such circumstances."
He however disagreed that the discovery could have had spiritual purposes, saying that it was possible scientifically and when subjected to scientific investigations, the causes could be known.
The creature was said to have been taken to the Veterinary Clinic, for proper examination.
Some eyewitnesses at the scene had earlier attributed the discovery to spiritual forces, saying that it was a miracle from the Almighty God, while others claimed it was one of the signs of the end time.